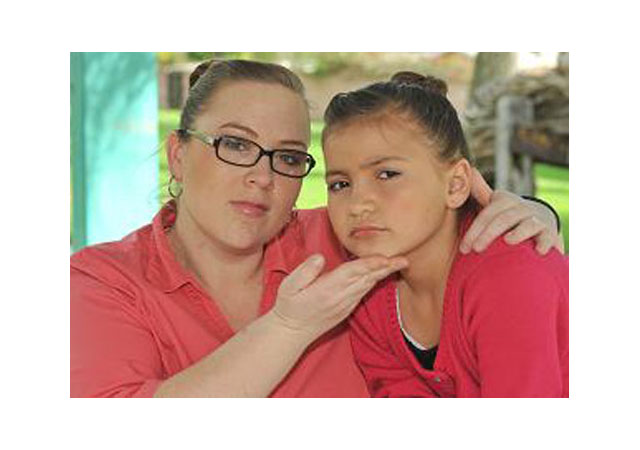 In a twist to top all twists, Kerry Campbell, the woman now known as "Botox Mom," has confessed to making the entire story up. Since the story did first leak in the UK's tabloid paper The Sun we should have known better, but large news networks such as Good Morning America and The Times picked up the story and no one realized, until Child Protective Services began to really dig around.
As it turns out, a Kerry Campbell does not exist in San Francisco. Kerry's name is actually Sheena Upton. This has all come up in the weeks since her GMA appearance, and according to Radar, an insider said, "Kerry is making the entire thing up for publicity. Kerry is obsessed with reality television, and wants to become famous. Child Protective Services are conducting an investigation about the Botox claims, and at this point, there is absolutely no evidence that Kerry injected Britney with Botox."
TMZ also reported on the matter, confirming that this person we came to know as "Kerry Campbell" is actually Sheena, and was approached by The Sun and asked "to play the role of Kerry Campbell" for a story. She then adds that she was approached by GMA and Inside Edition and offered money to appear on both shows, so she continued and re-told her story.
TMZ obtained a sworn declaration which states: "The truth is I have never given my daughter Botox, nor allowed her to get any type of waxing, nor is she a beauty pageant contestant." Upton also had to take her daughter for a medical exam, and the results show that she has never received Botox or any other injections.
Now, this of course brings up a lot of questions is she still a fit mom even though she didn't inject her daughter? Do you believe this hoax claim, or do you think she wants to extend her 15 minutes of fame? And, even if she didn't really inject Britney (if that really is her daughter's name) with Botox, or wax her legs, would you consider her a fit mother after forcing her in front of the cameras?