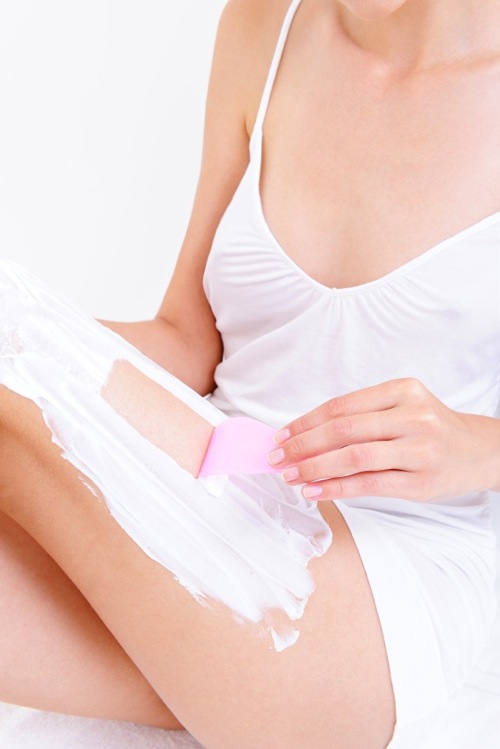 As the temperatures begin to plummet, so do both my will to exercise and much to the horror of my boyfriend my desire to shave. Maybe its because its too cold to even think about going out sans tights (which strategically cover gams, both the silky smooth and the stubbled), or maybe its because come winter I get increasingly more lazy, but the idea of spending precious time in the shower removing hair seems both silly and unnecessary (especially when theres trashy TV to be watched who wants to go outside when its 10 below zero and blizzarding when youve got hot cocoa and The Real Housewives to keep you warm?).
Still, if I could just find a hair removal treatment that took less time and energy than shaving, I could keep my legs looking more bare than bear this winter (and my significant other infinitely more happy). After a morning of some serious pre-hibernation shopping and investigating, I found several options that appeared to fit the bill. And so I put my razor on hold and three at-home removers that all claimed to get me the same results (smooth and hair-free legs!) in the same amount of time (3 minutes!) for virtually the same price ($8!) to the test.
Nair Hair Remover Lotion with Baby Oil (For Legs & Body), $7.99 at Amazon.com
The Claim: The self-proclaimed #1 Hair Remover Lotion alleges that after application, this product will leave you with smooth skin that lasts longer than shaving in as little as 3 minutes (and no more than 10).
The Clincher: No false advertising here! Nair Hair Remover Lotion with baby oil was my number one pick among the other lather-on, rinse-off hair removal methods that I tried. Nair was easy to apply, and after just 4 minutes, my legs went from hair to bare with nary a residual straggler and no stubble. As advertised, my skin felt silky smooth, and while it didnt necessarily give me as close of a shave as my trusty Gillette Venus razor, it certainly is worth investing in for winter (and even summer) months.
Sally Hansen Spray-On Shower-Off Hair Remover for Sensitive Skin (extra gentle soothing formula), $7.99 at Walgreens.com
The Claim: This bottle boasts that all you need to do to achieve a hair-free you is just spray and rinse awayno touching, no spreading, no mess required. The spray-on hair remover also alleges that the results will last days longer than shaving and take as little as 3 minutes (and no more than 10).
The Clincher: As is the case with most things that sound or look too good to be true, Sally Hansens Spray-On Shower-Off hair remover was disappointing. While it started off strong the spray bottle allowed me to get a very even coat of the formula on my entire leg and there was (as the product alleges) no touching, no spreading, no mess involved in the process the finish left something to be desired. After doing a meticulous wiping job per the directions, I experienced a mild burning sensation (and this is their extra-gentle soothing formula!) and was left with a good portion of the hair that I had started off with. Sorry Sally, but I think that Id rather be hairy.
Veet Suprem Essence Hair Removal Gel Cream, $6.99 at Walgreens.com
The Claim: Veets velvet rose scented gel cream with essential oils promises beautiful touchably smooth skin in as little as 3 minutes (and no more than 6 minutes) for normal/dry skin.
The Clincher: The gel creams velvet rose scent was definitely discernable and yet not overpowering which left my legs smelling quite lovely. Easy to apply, the lotion did remove the majority of my leg hair though it left me feeling more stubbly than smooth. Id opt for Veets version of hair removal lotion if Nairs werent available.