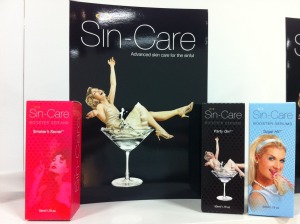 Sin-Care's Smoker's Secret, Party Girl and Sugar Hit Serums
It's day two of Cosmoprof and I've been roaming the floor, talking to brands to find out what's new and hot for 2012.
Yesterday I was all about nails, but today the big news was in skin. I found tons of interesting lines, all promising to make skin look radiant, young and refreshed.
Amidst all the doctor brands and organic offerings, I found a cool indie brand from Australia that I'm in love with. It's called Sin-Care, and it takes a very unique approach to skin care.
Instead of formulating products based on your age or your skin type, Sin-Care wants to know what your sin type is, i.e. what is your biggest beauty sin? The brand is based around lifestyle aging–the things you do to your skin that cause it to age prematurely.
Each of the nine serums addresses a specific sin: Smoking, sun damage, excess sugar, stress, lack of sleep, excessive exercise, neglect, partying and pollution. They are meant to be used before your moisturizer, and can be layered if you have more than one sin you want to treat.
I think this is an interesting approach to skin care. Most products on the market will tell you what they address (fine lines, age spots, dullness, etc.), but oftentimes most of us have multiple issues we need to fix. For instance, someone who smokes has issues with dullness, free radical damage and wrinkles causes be the repetitive motions associated with smoking. One product might not take care of all of those concerns.
So what's your skin care sin?