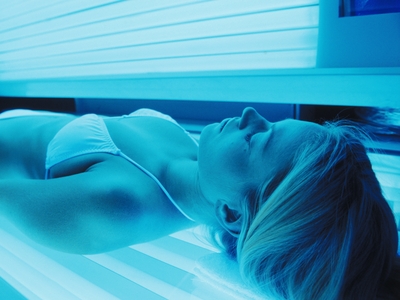 Photo: Getty Images
With beach weather around the corner, many are considering hitting up the tanning salon to get a head start on a summer glow. But before you grab your goggles and dash to the nearest salon, check out new research from Mayo Clinic that could change your mind.
The study, published in the April issue of Mayo Clinic Proceedings, says Melanoma is on the rise for women under 40, hitting us at a rate that's eight times higher than it was in the '70s. One of the leading culprits? Indoor tanning.
Regularly catching your rays from a tanning bed–even for a few minutes here and there–makes you 74 percent more likely to get skin cancer, the Skin Cancer Foundation reports. You're simply getting too much UVA exposure, and while many young women have a "won't-happen-to-me" attitude when it comes to skin cancer, these astronomical numbers suggest it could.
The good news is that nixing indoor tanning doesn't necessarily mean you can't get your glow on. Bronzing moisturizers or tanning wipes are the safest way to start your summer tan. What self-tanning products will you be using this season?