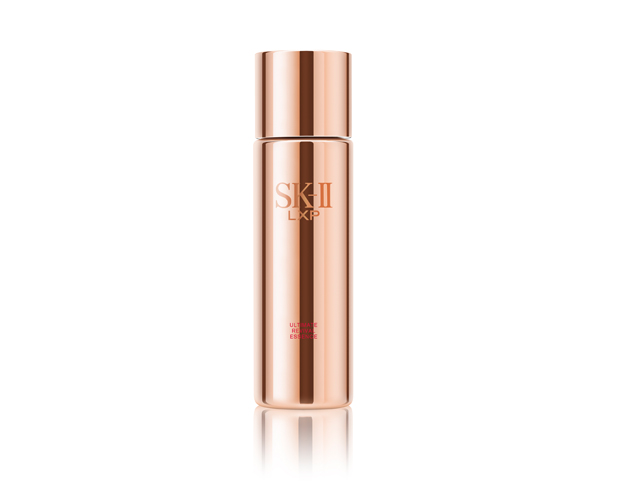 At Beauty High we constantly have new products crossing our desks and are always on the hunt for the next best thing. "The One Thing" is our way of sharing with you that must-have product that you need to introduce to your lives right now, even if it means skipping Starbucks for a couple of days.
When it comes to our skin, we are more inclined to spare no price in order to get the best results. Everyone wants a flawless canvas to start the day – or better yet, to end the day with. SK-II has gained quite the celebrity following over the years, with Cate Blanchett (and now Kate Bosworth) who were first fans and then celebrity spokeswomen for the brand. The line revolves around their "secret" ingredient Pitera, which was discovered due to the soft and youthful hands of the women working in Japanese sake breweries. The brand acquired rights to the nutrient-rich ingredient, and just  recently launched their latest product in the line, SK-II LXP Ultimate Revival Essence. The latest Essence contains the highest concentrated amount of Pitera yet as well as a trio of moisturizers to help tone and hydrate skin.
What Makes It Different: 
Packed the the new "Golden Regenerating Complex" the LXP contains Pitera, yeast-peptide and a trio of moisturizers to battle aging. 

The Essence is designed to be applied after cleansing to hydrate your skin and encourage clarity in your skin tone.
It also helps to improve the appearance of any fine lines and wrinkles – plus, it helps firm up your skin as well.
Why It's The One Thing:
Using a product that you simply have to splash in your hands and pat onto your face (dab and pat the Essence in – never rub or soak it into a towel or cottonball) is the easiest and most effective way to improve your skin.
Where to buy: SK-II LXP Ultimate Revival Essence, $250, saksfifthavenue.com