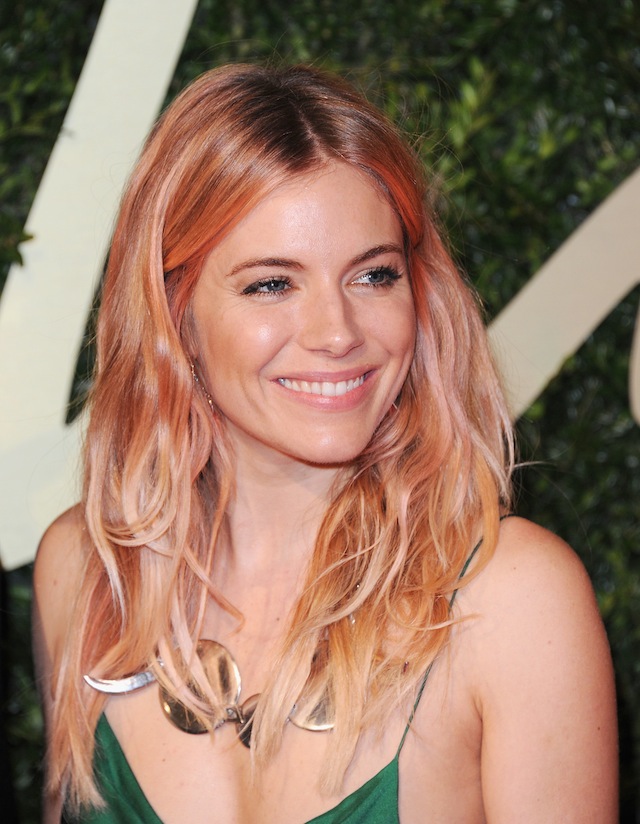 Sienna Miller has always been a go-to source for hair inspiration, from her gorgeous sun-kissed waves to her blunt bangs and of course, her chic pixie haircut. But, the blonde bombshell has topped herself this time, debuting rose gold locks at the British Fashion Awards today. What really caught our eye though was the placement of the color – instead of choosing to dip dye her locks or go for an all-over hue, Sienna's color concentrates near the center of her head, framing her face with a splash of brightness.
MORE: Kendall and Kylie Jenners' Hair Colorist On Experimenting With New Shades
The color extends just a bit down throughout the rest of her hair, in a piece-by-piece fashion, but by concentrating the bulk of it close to her ears it draws light to her gorgeous face, and honestly brightens up her look. Also, note the fact that she's still sporting a bit of root growth (something we've seen on Ciara and Ke$ha lately too), making us feel better about not getting to the salon as often.
What do you guys think of the new look? Are you experimenting with bright colors, and if so, how do you decide the placement for them? We think we may be borrowing Sienna's look the next time we hit the salon…
Photo by Stuart C. Wilson/Stringer/Getty Images