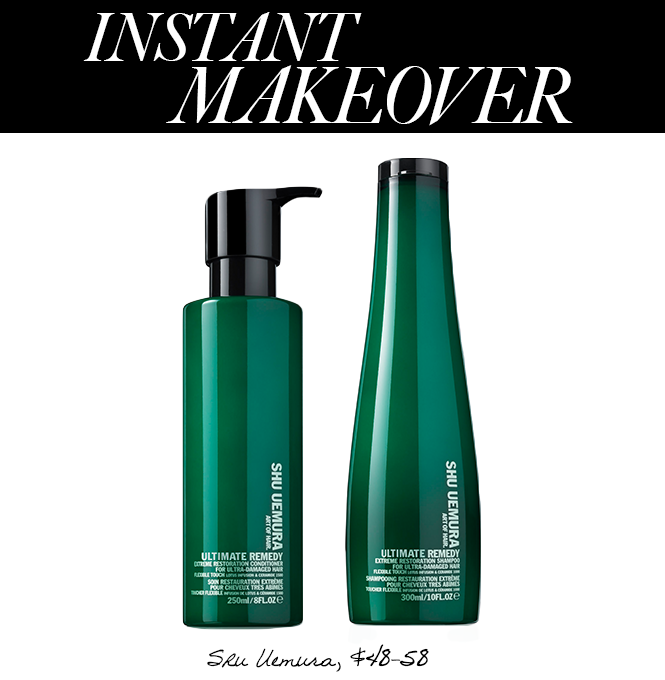 Occasionally we come across a product that bestows an immediate glow, changing our look (for the better!) in an instant. Since we'd be remiss to keep them to ourselves, we highlight these genius finds in our Instant Makeover series.
Ever since I've grown my hair past shoulder length, split ends and breakage have become an issue — yet I refuse to believe I'm meant to have anything other than a long, luscious mane. My goal is mermaid-length, but it's hard to get there when the brittle tips keep breaking off (I blame a stint with too-light ombré a couple of years ago — the damaged remnants are still visible at the ends). So when I first heard about Shu Uemura Art of Hair's new Ultimate Remedy line, a collection of four products that use ceramide as a "cement" to repair the hair fiber from within, I was ready to give it a shot.
I headed to Rossano Ferretti Hairspa in New York's historic Fuller Building to preview the new line before its October launch date. For hair that's in need of a spa day, this spacious oasis is the place — with separate rooms for coloring, hair washing and cuts and styling, plus a private lounge for high-profile clients, there's none of the noisy bustle that makes some salon experiences feel chaotic and stressful.
My stylist prescribed the Ultimate Remedy Extreme Restoration Shampoo ($48) and Conditioner ($58) for my fine, wavy hair, and I relaxed as the products' reparative ceramides and moisturizing lotus infusion did their work. The shampoo and conditioner smell amazing, with a blend of woody notes, exotic florals and citrus, and despite being incredibly moisturizing, they're also lightweight enough not to weigh hair down.
Afterward, my hair was mirror shiny (even the next day!) and you wouldn't have been able to tell I was in dire need of a trim — all those split ends were smoothed out. If I didn't know better, I'd have thought I'd never damaged my hair in the first place.
The Shu Uemura Ultimate Remedy line, which also includes a concentrated Extreme Restoration Treatment ($68) and Extreme Restoration Treatment Duo-Serum ($38) is available October 2013 at shuuemuraartofhair-usa.com.
Read more: How Often Should You Get a Haircut? We Asked an Expert