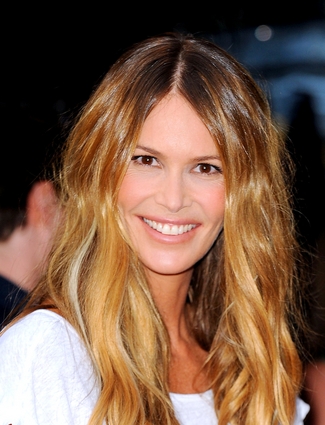 Photo: Ferdaus Shamim/WireImage
H&M, Saks 5th Avenue and Macy's have already begun stocking the winning designs from NBC's new fashion reality competition, Fashion Star. Unlike Project Runway, each episode of Fashion Star will end with the winning ensemble being sold to the highest retail bidder, and it will then hit stores and e-commerce sites that very night.
Try on Elle Macpherson's hairstyles in the Makeover Studio
This marks the first time a reality design competition, of which Bravo and Lifetime have ensured there are many, has sought to appeal to shoppers and turn viewers into an interactive presence on the judging panel. Jessica Simpson, John Varvados and Nicole Richie are the official judges, alongside host Elle MacPherson, but they will be joined by buyers from the three mega-retailers who duke it out in a bidding war for the winning garment.
Each episode will require the designers to create looks based on the practical needs of shoppers, instead of abstract challenges. We can expect to see the contestants racing to craft raincoats and bathing suits, instead of gowns made from pipe cleaners or plants and Mood fabric.
Elle Macpherson's Latest Battle With Heidi Klum
Saks is set to carry Fashion Star merch at all of its 46 locations, while Macy's is stocking NYC's flagship store, and H&M has volunteered 100 U.S. shops. In addition, all three retailers will be selling the designs online, making this the first time H&M goes e-commerce.
Will you be watching and shopping Fashion Star this season?