We maintain that one can be sexy regardless of their hair, makeup, or style choices, but it can also be plenty of fun to take the whole idea quite literally. Whether you're a Sophia, a Brigitte, a Liz, a Marilyn, or even a Grace—and come on, we've all thought about it once or twice—we've got the perfect techniques for embracing your inner sex symbol, with a little help from the pros. Hairstylists Ali Ozel and Mia of Pierre Michel Salon and makeup artist Yuui showed five of our favorite real girls exactly how to get each look.
Start by using a large-barrel curling iron to create thick curls, focusing on the layers around the face, before brushing them downward to smooth and comb out the set. If you have long hair, loosely roll and pin your hair up into a faux bob using thick bobby pins, and clip the front layers away from your face to help them retain a neat wave. Use a thin black pencil liner to create a dramatic cat eye, tracing both the upper and lower lids, then finish off with a semi-matte nude lipstick. This look screams sexpot, but it's also a little bit refined—the best of both worlds.
Dampen the hair with a generous amount of leave-in conditioner before blowdrying with a small round brush to create loose, mussed up waves. Use a fine-tooth comb to backcomb at the crown, then sprinkle volumizing teasing powder into the the roots and top layers for mattified, bedhead-y volume. For sexy bedroom eyes, create a thick cat eye with a black pencil, then smudge outward and upward with a Q-tip. A peachy nude lipstick with a bit of gloss to it finishes off the look.
Wrap each section of hair around a 1/2-inch curling iron, rolling the front layers toward the face and the rest away from the face to give natural-looking movement. If you have long hair, pin the lengths up at the back and secure with bobby pins. Mist a light-hold hairspray over your finished style to lock it in place and enhance shine. This type of bold red lip requires precision, so use a lip brush to apply a creamy red lip color, then clean up the outline with a bit of concealer. For a bold brow look that isn't costume-y, use an angled brush and powder to shape and fill in sparse areas.
Set the whole head with hot rollers, then pin each curl in place and allow it to cool to properly set the curl. Once you've released them, warm a dime-sized amount of texturizing paste between your hands, then run it through your hair to give texture and create a piecey rather than super polished effect. Comb brows into place and set with clear gel, then use a black liquid liner to create a traditional cat eye flick. Smooth on a creamy red lipstick, and you're good to go—fake birthmark totally optional.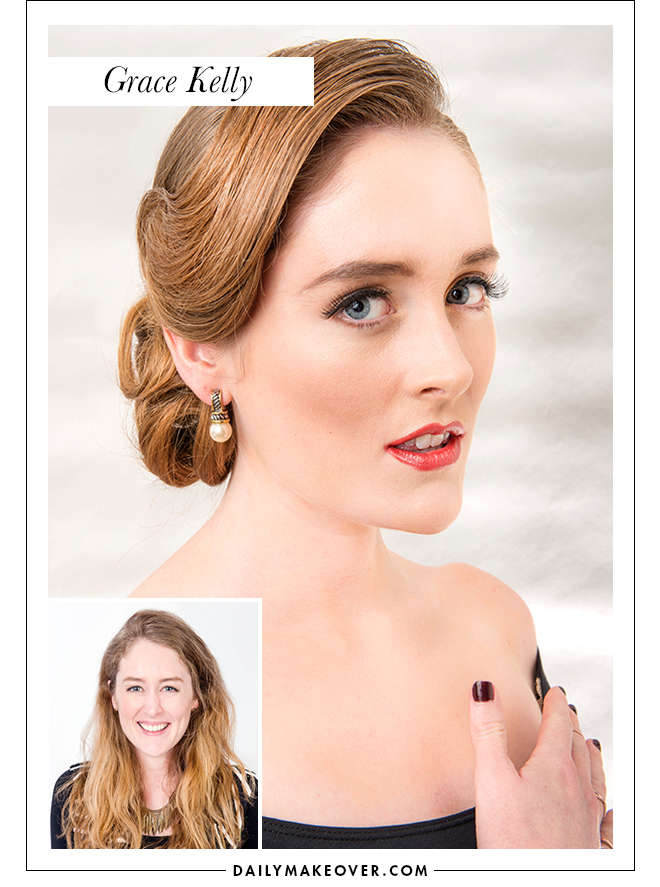 This look is super sleek, so if you have lots of natural texture, you'll want to start on damp hair and blow-dry first. Work a bit of mousse into your dry hair to establish a clean, shiny texture, then bring smoothed hair into a clean low-slung side ponytail, leaving the top layers out. Take the lengths of the ponytail and wrap it around the base of the pony up and into itself. Take the top piece and side piece and pull them into the back, then use a clip to secure and a light-hold hairspray to help retain the shape.
Credits:
Photographer: Tiffany Hagler-Geard
Hair: Ali Ozel and Mia Moore, Pierre Michel Salon
Makeup: Yuui
Features Director: Samantha Lim
And a very special thanks to our models:
Ashley Fredrickson as Sophia Loren
Hayley Crowell as Brigitte Bardot
Katharine Gray as Elizabeth Taylor
Lisa Piscitelli as Marilyn Monroe
Cailan Cassidy as Grace Kelly