This spring is all about wearing fun, bright colors, but there's one lively hue that's particularly important to try out: Tangerine Tango. Deemed "Color Of The Year" by Pantone, this bright red orange "has the energy and vitality of red, but the warmth and mellowness of yellow," says Lisa Herber, Vice President of Consumer Licensing at Pantone.
So how did they settle on this peppy orange? "We look at everything that's going on in the world, from the arts and culture, to shopping trends and hot travel spots. When you look closely at all these areas, certain colors bubble to the top and become more important for that year," she explains. This begs the next question: What does Tangerine Tango represent for 2012? "That it's time to get on with it. Everyone is tired of feeling sad, and let's stop being boring, and perk up and enjoy life. Let's start spending money, too," laughs Herber. Here, here!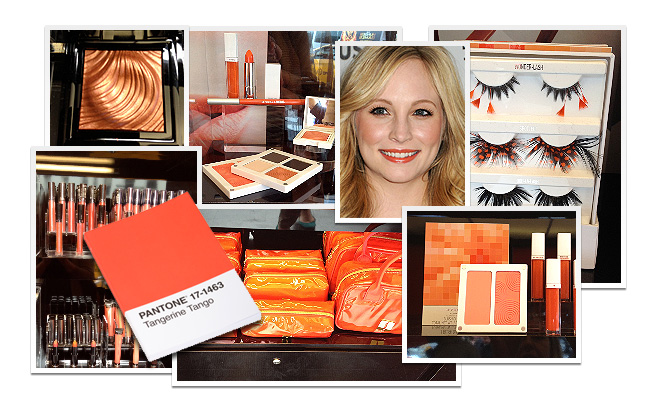 Candace Accola shows just how flirty a tangerine lip gloss can look. Photos: DailyMakeover and Getty Images
So, how do get your Tangerine Tango on? Hit up Sephora, which has created a special limited-edition range of beauty products in partnership with Pantone. I visited the Sephora + Pantone Universe Pop-Up Color Shop in Soho featuring the line and the quick shopping trip was like a hit of Prozac. From bright orange accessories and nail polishes to shiny coral lip glosses and complementary bronzers and eye shadows, the Color Of The Year Capsule Collection contains a slew of options to work this bright orange into your every day look. My favorites are the Makeup Bag, $28, because it's so bright, shiny, and looks on-trend when I pull it out of my purse, and Color Of The Year Lip Gloss Set, $20, which has four different shades and finishes to play with.
The collection is also available is all Sephora stores and on Sephora.com.
So, are you ready to get one with it too and try out Tangerine Tango?