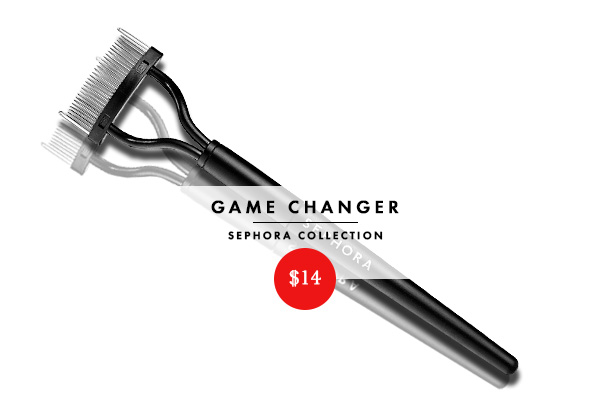 There are plenty of beauty lovers for whom mascara is their singular desert-island must-have, but I'm not one of them. I know, it's almost equivalent to makeup sacrilege, but the fact of the matter is that I can do without the stuff… and often, I do. There's just so much that can go wrong at every turn, from the application process to the way it tends to look at the end of the day (i.e. not good).
That is not to suggest that I never, ever wear mascara. I do sometimessay, when I've woken up early enough to focus on makeup beyond brows and a swipe of lipstick. But all too often, despite my best intentions and most careful attempts at application, I end up with less than desirable lashes, whether they're crimped weirdly toward the ends or stuck together in the classic tarantula-leg formation. Not cute.
The only solution, of course, is to turn to a lash comb. Here's the thing about lash combs: They are, by all accounts, terrifying. A sharp tool that you use in your immediate eye area, pointed directly toward your eyeball? Sign me up… for an emergency ophthalmologist appointment five minutes later. That's precisely why I was hesitant to give the SEPHORA COLLECTION Long Lashing Contoured Eyelash Comb a chance. Put simply, I was afraid of it.
Like giving a potentially risky romantic prospect a chance and reaping the benefits, wondering all the while what it was you were even afraid of in the first place, this lash comb has been the catalyst to breath new life into my long-dormant affection for mascara. It doesn't matter how badly I screw up the application, because this comb, with its many tiny metal teeth to separate each individual lash, and contoured shape, which hugs the curve of the eye perfectly to get the job done in one swipe, has got all the answers. It makes getting perfect mascara so, so easy, and I guess it isn't all that scary once you get then hang of it. Eyelash curlers, on the other hand? I'm still not entirely convinced that they aren't just some sort of medieval torture apparatus masquerading as a must-have beauty tool. I'm onto them.
Read more: 9 Weird Things You Didn't Know About Your Eyelashes