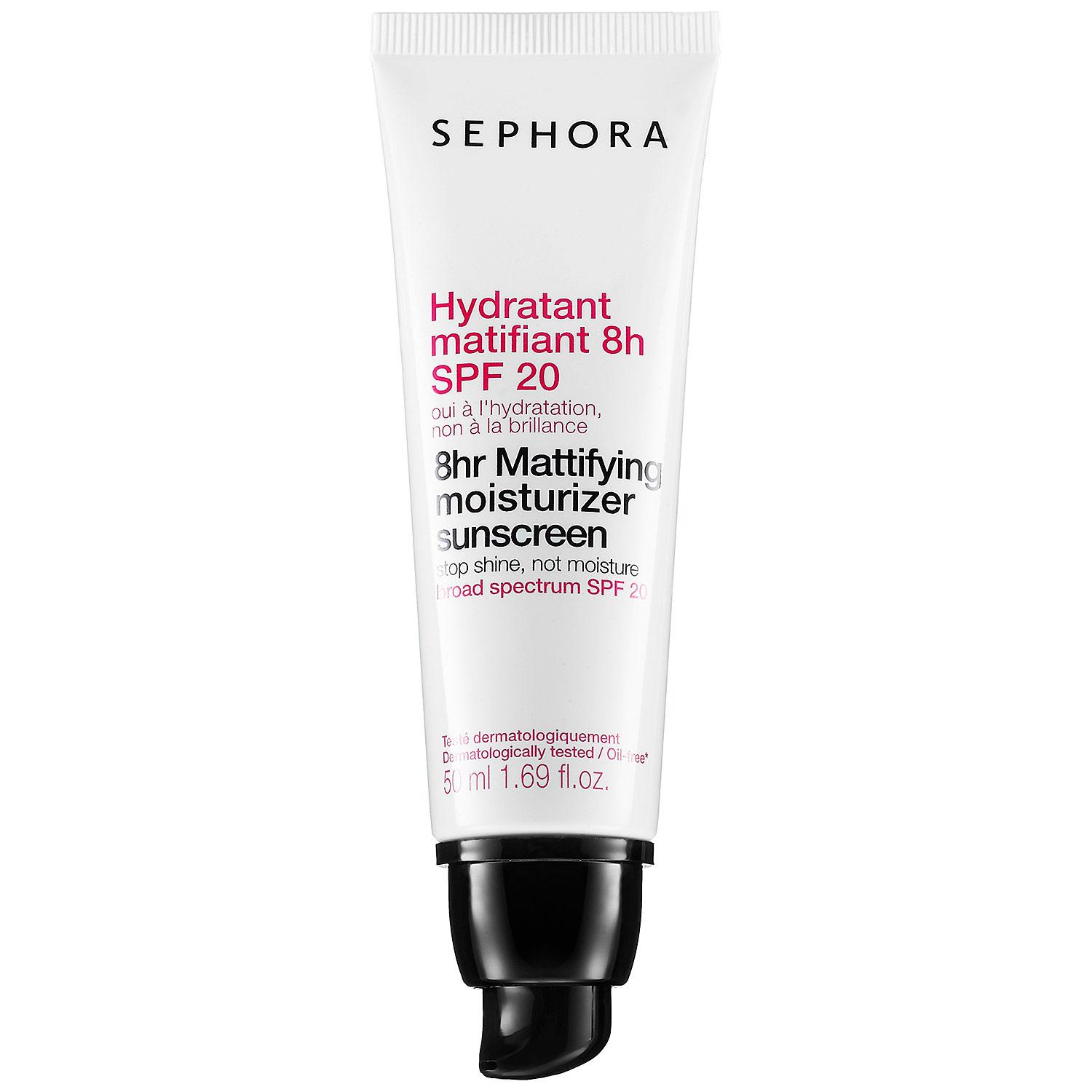 There's a word for Sephora's 8 HR Mattifying Moisturizer Sunscreen, and that word is magic. We know; it's a high claim to make, but after searching practically the entire Internet over for a moisturizing sunscreen that didn't turn us into a greasy mess, someone may as well have cast Wingardium Leviosa on us, because we're finally walking on air.
To be fair, we have some high standards for sunscreen: it can't actually smell like sunscreen (we want to use it daily, after all), it should be moisturizing, it can't break us out, and it has to be over SPF 15 (because like that actually does anything). It's a tall order, and we've tried so many that it's grown to Goldilocks proportions. Some were fantastic, but cost too much for too little product; others started the day off well, but left us oily by lunchtime; still more got our hopes up, only to leave us pimply by the weekend. Sephora's house brand has luckily come through, and after about two weeks of regular usage, we've settled into a routine that feels just right.
What Makes it Different:
It doesn't smell like sunscreen, but the fragrance isn't overwhelming, either.
It leaves our skin silky smooth, and keeps us matte almost all the way through the day, which is saying something in this humidity.
It doesn't have the highest SPF, but for daily wear when we're almost entirely in the office, it'll do.
It's pretty well priced at $22 for about two ounces, and it only takes one or two pumps to cover our whole face and most of our neck. Our last favorite sunscreen was Shiseido's Urban Environment SPF 40, which was $30 for about the same amount, so we'll take it.
What Makes it The One Thing:
Sunscreen, man! We realized a long time ago that if we were going to commit to using something everyday, we'd better like it. The search has been long and grueling (not really), so finding Sephora's triple-hitter was a huge relief. The mattifying edge is the thing that really pushes it over the edge–we wouldn't mind using a separate moisturizer and sunscreen if need be, but we've had trouble enough finding a mattifier that makes a difference. Beyonce may be sweating; Sephora's 8 HR Mattifying Moisturizer Sunscreen is the ultimate triple-threat.
Where to Buy: Sephora 8 HR Mattifying Moisturizer Sunscreen, $22, Sephora (surprise!)