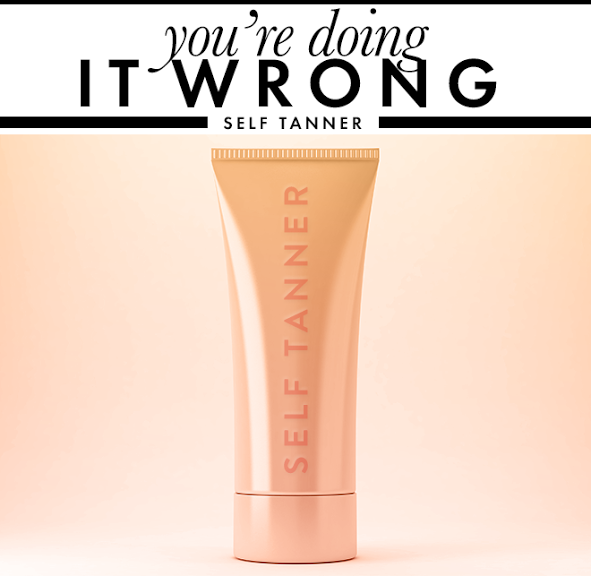 We try to be smart: We avoid too much sun and never go near a tanning bed. That's why self tanner seems to be the best of both worlds. You get that summer glow without all the inherent risks. Except, of course, if you are doing it wrong. Self tanning gone wrong can lead to missed spots, streaks and random dark spots—the opposite of fun.
Number one error made by all those who self-tan is not exfoliating, says esthetician Michele Saunders of Suede Salon Spa & Body in Marlton, New Jersey. This holds true for spray tans, too. Be sure to shower and deeply exfoliate before applying any type of self-tanner or getting sprayed.
As for what you should do when applying self tanner? The list is endless:
1. Avoid applying deodorant, perfume or lotions once you're showered and buffed.
2. Be sure to apply a healthy amount of petroleum jelly to any areas of rough and dry skin, including the palms of hands, wrists, elbows, knees and the soles of feet. Between the fingers and around the nail cuticle can also be dry and dead-ringers for a self tan gone wrong.
3. Try to use a mitt to apply whenever possible. This will help to ensure the tanning solution goes on evenly and help prevent a dark-hued hand, says Saunders.
4. Do not do anything for at least eight hours after applying the self tanner or getting spray tanned that will inadvertently exfoliate. For example, do not get your nails done, wax or exercise for at least eight hours. Sweat will remove the tanning solution, as will rain.
5. Wear loose-fitting clothing for at least eight hours. It takes eight hours for most self tanners to cure, and if it feels sticky, it's still wet, so wait before dressing.
6. Skip the face. It's easier to use a bronzer/makeup to add the sun-kissed look to the cheeks and forehead. Many who self tan the face avoid proper exfoliation to maintain their "tan." In addition, self-tanners may also clog the pores, creating a breakout, says Saunders.
Read more: 6 Times Tanning Went Very, Very Wrong