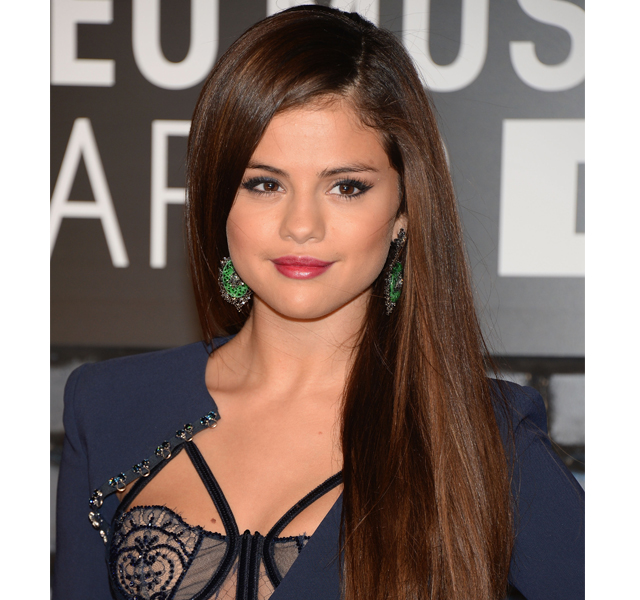 While there has been a lot of discussion around Miley Cyrus' disturbing dance performance at last night's VMA awards, as well as Justin Timberlake's concert (and takeover) complete with a couple minutes of *NSYNC love, we can't forget that there were also some undeniably fabulous beauty looks as well. When we spotted Selena Gomez on the red carpet (in yes, a Versace Atelier gown that was supposed to be open, guys – it was not a a red carpet mishap) we couldn't believe how stunning — and mature — she looked.
We had to get the scoop on her look from her makeup artist Gita Bass, a Simple Advisory Board member, who explained that it's not only an easy look to do on the red carpet, but also at home. Below, Bass tells us exactly how to get the look:
1. Start with a fresh canvas. The first step in getting a great makeup look is to start by taking proper care of your skin. Moisturize with Simple Hydrating Light Moisturizer.  It is perfect even for sensitive skin.
MORE: Miley's Buns, Katy's Grills and Other Must-See Moments From the VMAs
2. Even out the skin tone with Armani Luminous Silk Foundation.  After moisturizing, foundation will spread easily and stay on longer. Where needed, apply concealer. I used Cle de Peau concealer in Honey on Selena.
3. To match Selena's navy Versace stunner, we decided to go with a navy cat eye. We used Make Up Forever Aqua Eyes in 3L layered to line eyes and topped them off with Volume Effect Faux Cil Mascara by YSL.
4. A berry lip added contrast to the rest of the look. We used Tom Ford Lip Color in Black Orchid.
Image via Jamie McCarthy/Getty Images