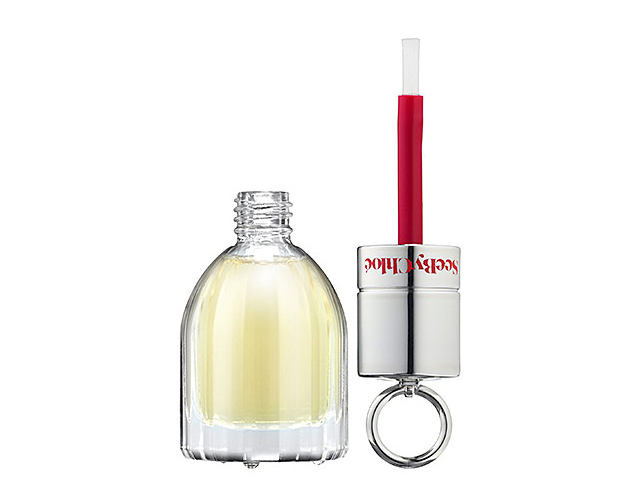 You know how you see the "bestsellers" and "most popular" products in beauty stores, so you of course scoop them up, but then you realize you have no idea how to work them? In "How It Works," we're going to explain to you exactly how to get the best use out of your products, whether they are cult classics or hot off the conveyer belt must-haves. We'll teach you the basics, as well as a few industry expert tips to make sure you're getting the most out of everything you buy. 
Applying a fragrance has no rhyme or reason to it – some of us prefer the spritz and walk through, some of us have certain favored scent points that we spray directly to. But, whether or not you're a "spray it in your hair" or "spritz on your wrists" type, we all like our scents to smell great and last, bottom line. So, when we caught wind of Chloe's "Paint a Scent" for their See By Chloe Eau de Parfum, we had to find out exactly how it works – and see if it could solve all of our fragrance woes.
Since we're already fans of the Chloe eau, which is a fabulous floral fragrance balanced by fruity notes (it's a blend of bergamot, apple, jasmine and ylang ylang) we had no problem drowning ourselves in the scent – and hoping it would last. The trick to the "Paint a Scent" is all in the applicator – instead of a spray bottle, there is a brush applicator to help you apply it to certain points to let the scent absorb.
MORE: How It Works: Leonor Greyl's Masque Quintessence
Product Perks:
A nod to the urban, spontaneous woman, the .5 oz bottle has a small ring on the top (perfect for your purse and on-the-go).
Since everyone knows not to mess with a good thing, the scent is the same, but the applicator is new and approved – instead of messing with a spray (which often can jam in your bag) this is applied with a brush, much like the brush on a nail polish bottle.
How It Works:
After pulling the fragrance brush from the bottle, choose the points in which you want to apply the scent. Most like the wrist, collarbone, neck and behind the ears.
Now, instead of having to spritz a tiny bit of fragrance and dab it around, you can simply take the eau on the brush and apply it on the points that you want, letting it soak into your skin.
If you still want some of the fragrance in your hair, dab the brush on your fingertips, rub together and run your fingers through your hair.
Where to Buy: See By Chloe Paint a Scent, $35, sephora.com