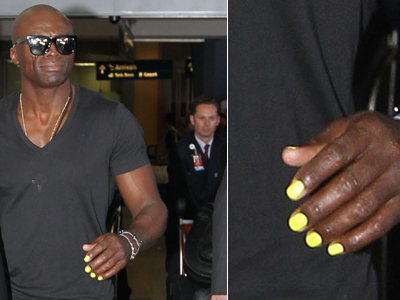 Photo: Styleite
We live in New York, so we're not usually surprised when we see a man with a mani. But when that man is Heidi's soon-to-be ex Seal (we're still rooting for a reunion!), our jaws dropped just a little. The singer walked out of an airport in Australia yesterday with bright yellow nails. Was this his attempt to distract us from the fact that he left his wedding ring at home? Nice try.
We're actually surprised Seal decided to take the ring off so soon. Recently, when he was on Ellen, the singer told her, "I think that (the ring's) a token of how I feel about this woman. We have eight wonderful years together, and just because we have decided to separate doesn't necessarily mean you take off your ring and you aren't connected to that person." So much for that!
This isn't exactly the first time we've seen Seal with nail polish, but this neon yellow is a little much. What do you think of men wearing pastel nail polish?