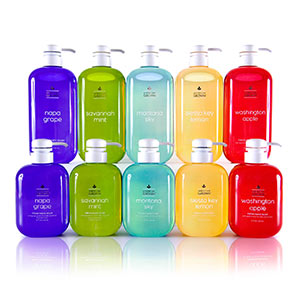 Labor Day is the unofficial end of summer (boo!) and one of the busiest travel seasons of the year. Or at least it used to be. According to AAA, the number of people traveling over the long weekend will drop by over 6 million, down 13% from last year.
Depressing news, especially if you're one of those people affected by the recent economic downturn. I hate the word "stay-cation" but the idea of finding a way to create that travel mentality without actually going anywhere is kind of a good one, especially if you're feeling down for not being able to travel.
To put yourself in a vacation state of mind, I love these hand soaps and body washes from Bath & Body Works. Called the American Grown Collection, it features five scent families based on different U.S. destinations. Pining for a visit to wine country? Give the Napa Valley-inspired Napa Grape a spin. Wishing you could afford a trip down to sunny Florida? Pop the top on Siesta Key Lemon and let the citrus scent take you to the sunshine state.
Granted that a shower gel is nowhere near as good as an actual trip to one of these storied destinations, but if you're stuck at home with no travel prospects in sight, you can at least transport your senses to someplace far away.
No matter where you are heading, be sure to have a safe and happy holiday!
As one the web's largest beauty sites, DailyMakeover.com constantly receives products from beauty companies for editorial review. Please read our Editorial Ethics Pledge if you'd like to know how we select products to feature.