When it comes to glamorous, sexy hair, no one does it better than Oribe. As a guest editor for Daily Makeover, the celebrity stylist–who works with A-Listers like Jennifer Lopez, Cameron Diaz and Scarlett Johansson–will be sharing his secrets on how to create his clients' iconic styles. When he's not styling the tresses of Hollywood's elite, he can be found creating hair masterpieces for magazines like Vogue and W or working the runway for the biggest names in fashion. He recently launched his eponymous luxury hair care line to help women everywhere create the elegant hair he's famous for.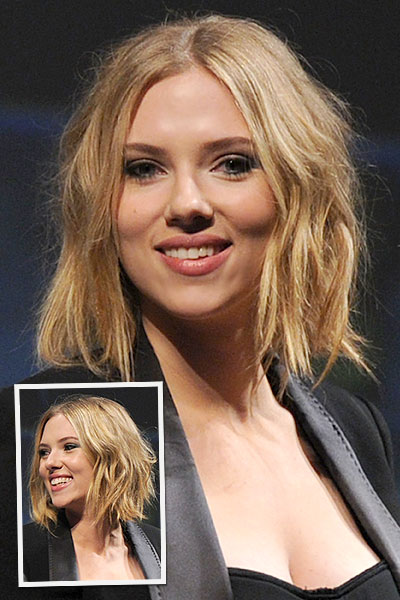 !nl!
Photos: © Kevin Winter/Getty Images
I recently took Scarlett Johansson from a long hairstyle to a shorter, more modern bob. We decided to take her shorter so she could go lighter for the summer. Her new look is a combination of Brigitte Bardot in the front and '90s Christy Turlington at the bottom.
To get this style, we actually cut Scarlett's hair two separate times. The first time was for a job, when Scarlett had to have a Bardot style. We took 5 to 6 inches off the front. The second cut was for Scarlett's summer look, and we wanted more volume but in a lighter style. We kept all the good qualities about the first cut, and we took length off the bottom to modernize the style.
I really like this style because it can look good on everybody. This haircut isn't so drastic–it's very soft in a way. A medium-length bob like this can be turned into lots of different styles, so it doesn't take a certain type of face shape or skin tone to pull it off. In terms of length, the style should be closer to the collarbone in front, not at chin level. The hair should be left long enough to put up.
This haircut has a lot of versatility. It's very modern–a medium-length to longer bob, cut in a really jagged line at the bottom. We kept the good parts of Scarlett's longer hair–the softer ends–and took length off the back. The cut isn't super-angled, and it isn't incredibly severe–it's softer and more wearable. There are a million directions you can take with this haircut–it's not your typical bob. Scarlett's hair was photographed in more of a natural state, but you can do so much with this style.
My Gel Sérum is great if you want a straighter blowout, or try my Soft Lacquer Heat Styling Spray if you want to curl the hair with maximum shine for more of a retro style. Use a dry texturizing spray if you want extra texture and lift at the roots. You can add volume to the hair, part it on the side, style it in a Brigitte Bardot updo, keep it a bit rougher and edgier by emphasizing the layers, let it keep its natural texture–these slight changes can make this hairstyle look completely different.