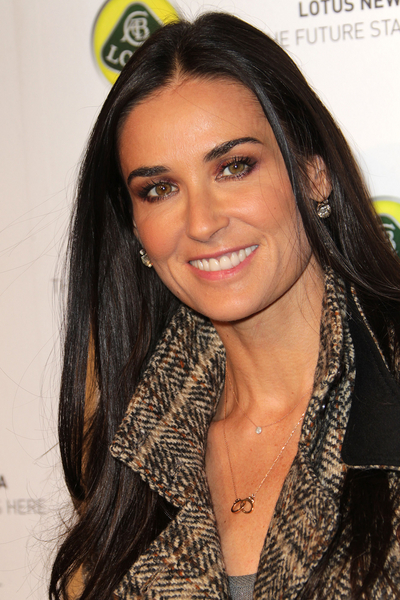 Photo: © Frederick M. Brown/Getty Images
What woman doesn't want shampoo commercial hair? But if you've ever set foot in a salon looking to channel the shine of Demi Moore, the sexy splices of Jennifer Aniston, or the fabulous curls of Diana Ross, you know just how fast those services and products can add up.
Lucky for us, there's one saving grace about hair: the less-is-more approach usually wins. The less you fuss and fight, the healthier and happier your hair tends to be. (Yes, Mom was right.) Our friends at StyleListI asked top stylists from both coasts for their best money-saving tips on cutting bucks from your beauty budget.
Use a ceramic metal round brush. Hardly anyone wants to spend more time doing their hair, and using a ceramic metal round brush can help cut time and cost down. When blow-drying, the metal heats up, drying your hair faster and adding more shine. Because the brush emanates heat, you can style loose curls with the brush and your blowdryer—eliminating the need for those $40 hot roller sets and curling irons, says stylist Maria de LosAngèles of New York's Valery Joseph Salon.
Try on Demi Moore's hairstyles in the Makeover Studio!
Emulsify. Many women swear by their favorite high-end shampoos and conditioners, but you can make those bottles last longer with just one simple step in the shower. Squeeze a small dollop into the palm of the hand, and then take several seconds to rub hands to emulsify the product into a rich lather. Because professional products are often highly concentrated, that smidge of product will grow into much more bang for your buck, says stylist Natasha Sunshine of LA's The Byu-Ti Salon.
Don't wash before styling an updo. "The trick to an at-home updo is dirty hair. Hair is more moldable like clay on the second day," says de LosAngèles. That means you won't be spraying your way through cans of hair spray and other styling products, in an attempt to tame wisps and colicky strands. For most, just one solid finishing spritz of spray and handy bobby pins are all that's needed after styling an updo into day-old hair.
Try balayage highlights. If you want to lighten your locks with highlights for summer, try the more authentic-looking version called balayage, which has been popularized by celebrities like Gisele Bündchen. "Balayage is sexy, subtle and requires little to no upkeep," says de LosAngèles of the technique, which places color casually through the hair in a pattern that more naturally reflects lightening after sun exposure.
A salon splurge is still frugal, since you won't have to touch up for months, instead of the usual four to six weeks. If doing it at home, buy a highlighting kit that is a couple shades lighter than your natural color. Begin color about a quarter of an inch away from your root for a more authentic look, with casually sectioned strands that vary placement, and go from thin at the root to gradually fuller at the ends.
Cover the part line. For those who wish to cover grays, regrowth can seem like a perpetual battle. You can temporarily mask the appearance of grays with a hair dye pen like ColorMark, or speak to your stylist about partial color visits. "Have your colorist just cover your part area line, every other time. You'll pay about half the cost for this service," says Sunshine. Want a 100 percent cost savings? Embrace those grays, and become a silver fox.
Bangs are cheaper than Botox. If you're bothered by pigmentation or wrinkles on your forehead, a wispy set of bangs will cleverly conceal and bring attention to your eyes, says de LosAngèles. Opt for a sheer set that slowly elongates in length as you move horizontally across the forehead, for an instant face-lifting effect that can take more years off than even a full weave of highlights. Those bangs may have cost you a few bucks to trim, but the laser and wrinkle treatments start in the hundreds.
Take advantage of student nights. Many salons and hair schools across the country offer steeply discounted services, so that their students can gain experience. To ensure you get work that's well worth it, be sure to ask if the student is supervised by a master stylist, who will check the work once completed. Search online for student hair services in your town, or look to a salon like Bumble & Bumble or Sassoon, where the culture is deeply steeped in student training. Expect to save 50 to 75 percent off the regular price of services. Cha-ching!
Make your own Keratin treatment. The hot buzzword for all things hair at the moment, Keratin, is a protein that forms the foundation of the hair strand. You can enjoy the health results without the dangerous synthetics by fusing protein-rich foods into the hair. Try a blend of two tablespoons mayonnaise, 1 whole avocado, 1 tablespoon coconut oil and one tablespoon olive oil, and leave on for 20 minutes, advises de LosAngèles. If mayo grosses you out, apply jojoba or argan oil to freshly washed hair overnight, and wash out in the morning for a similar effect. Keratin treatments otherwise run from $300 upwards, and come with potentially hazardous chemical risks.

Try on Demi Moore's hairstyles in the Makeover Studio!
More from StyleList
Hair Basics: Hot Roller How-To
Beauty Basics: Brighter Eyes Step-By-Step
Expert Skincare Tips