Last Saturday one of my best friends and HLP (heterosexual life partner), Rose, came over to just hang out and drink some wine. We wanted a low key, low budget night and decided to just stay in. We were watching some TV when I decided to clean out my makeup drawer.
"Um. What is this?" Rose held up some sort of Rimmel glitter eye pencil.
"Oh. I got it on sale."
"Lisa. You have so much stuff in here."
"I know," I said as I fingered my Nars South Pacific shadow duo. "And I never wear any of it."
Rose pointed at the bright acqua Nars shadows, "You know those colors are in now right??"
"I know but where am I going to wear them?"
"Well why did you buy them?"
"Because the colors are pretty! And mermaid like!"
"Oh my god."
"Hmph."
"Well I don't know how to do a smoky eye and I want to learn. But then I realize that I never go anywhere so why even bother."
"I'll do a smoky eye on you Rose!"
"Ok. Let's do makeovers!"
"HUZZAH!"
I emptied out my makeup drawer and hand picked a look for Rose. Glam Rock was what I was going for.

Here is the before. I had already done one of her eyes before I realized that I didn't take a "before" picture so that's why she's covering her left eye.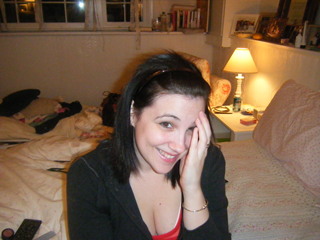 And here is the after. Check out Rose!! Doesn't she look fabu?! Rose has really great alabaster skin but she needs to incorporate some color into her makeup routine so I gave her a lot of bronzer and blush and did her eyes super heavy with a light lip.
And because she has such naturally straight hair I wanted to give her locks some body so I used mousse at the crown of her head and then dried it and scrunched it and used my Conair Infiniti crimper on her.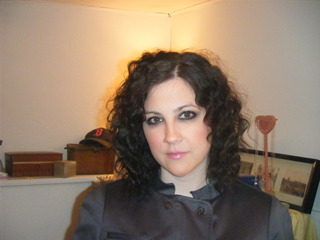 We had to get a photo of Rose smiling for good measure.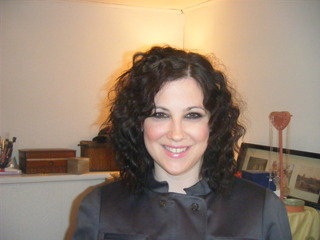 After I completed Rose's look I was feeling left out so I decided to bust out that Nars eye shadow and see what it was all about.
My before was hideous because I didn't wear any makeup AT ALL that day so here is my after. Lots of blue shadow, lots of bronzer and TONS of mascara. Naturally.
For my hair I piled on the mousse and Elnett hair spray and scrunched scrunched scrunched!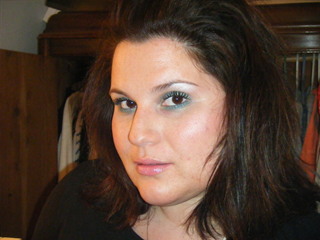 Let the photoshoot commence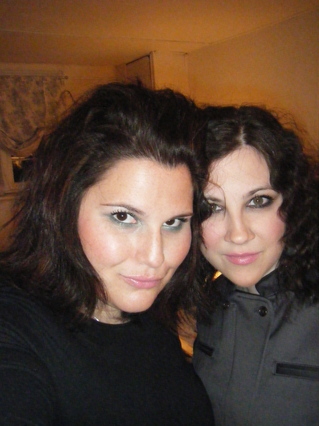 I had to represent Boston somehow so I resurrected the home town hat! Go Red Sox!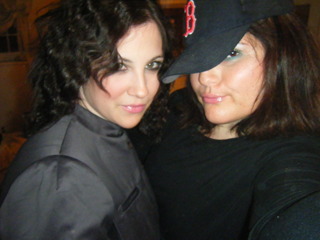 One thing you need to know about Rose is that this girl does a mean air guitar. It's like nothing you've ever seen. She really gets the crowd going. I think she even had a guy propose to her once because her air guitar was that amazing.
Now, I know you're totally mesmerised by Rose and her air guitar skills but focus your attention for a second on the top of my dresser. Do you see all of that makeup? That is not even the tip of the iceberg in the Lisa Gradie arsenal of product.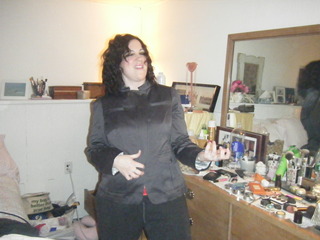 Someone needs their own band.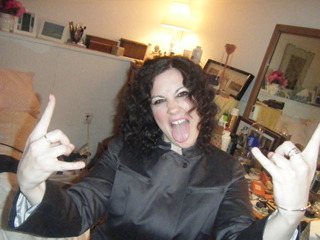 Say pruuuuuune!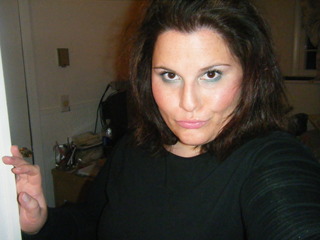 We're hot.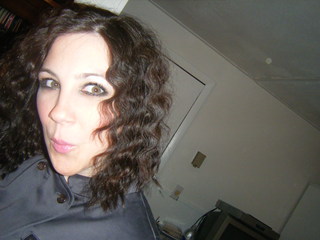 To get Rose's look I used:
To get my look I used:
Fresh Highnoon Freshface Glow
Laura Mercier Foundation Stick in Light
Fresh Here Comes The Sun face Palette
Fresh Face Luster in Seventh Veil
Nars Duo Eye Shadow in South Pacific
Urban Decay Eye Shadow in Eldorado
Benefit Kiss Me Lip Gloss
L'Oreal Voluminous Mascara in Carbon Black
Have fun!