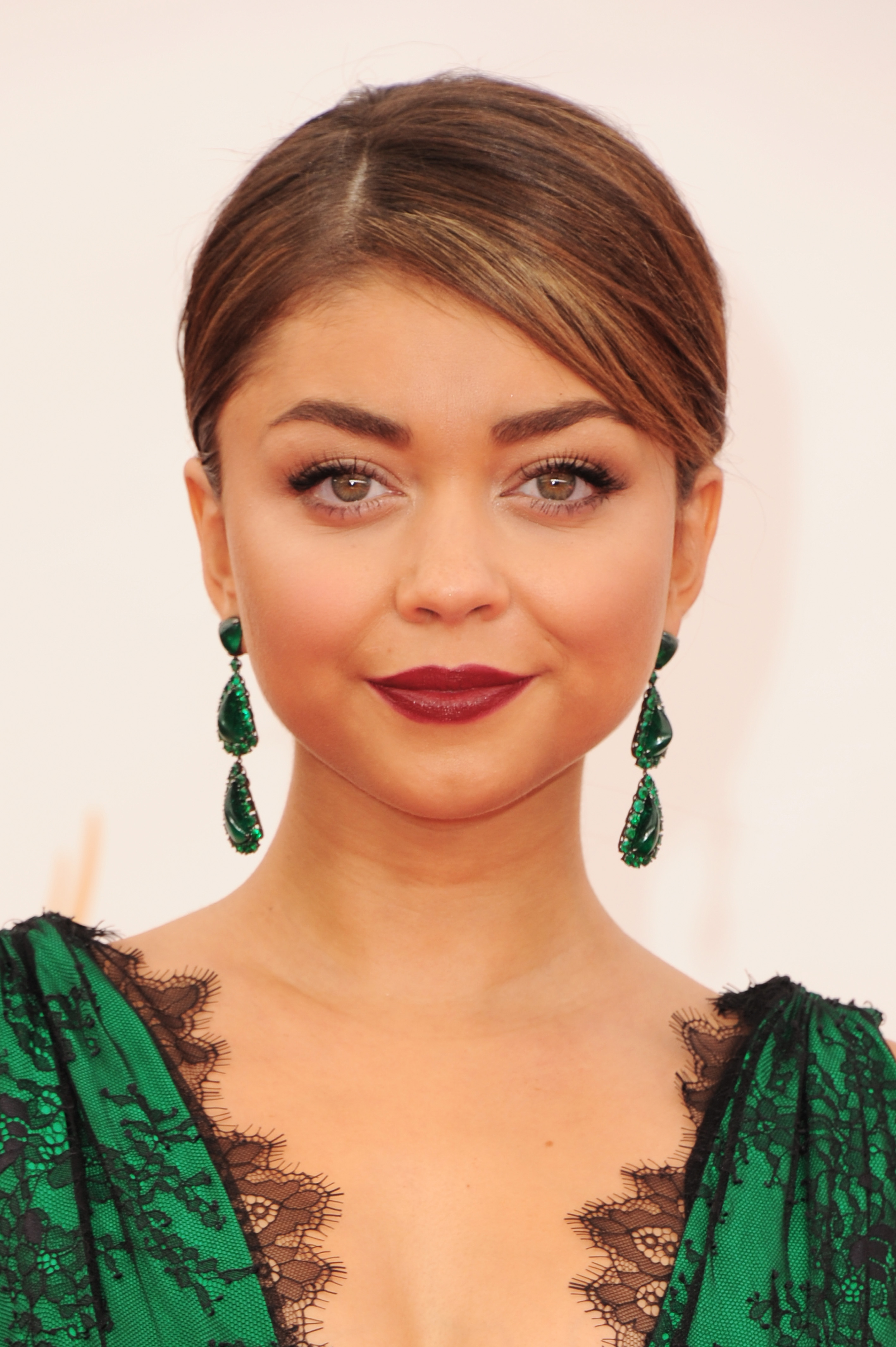 With a hit TV show and a bevy of feature films in the works, Sarah Hyland has earned her spot as one to watch in young Hollywood. When she's not busy playing the cool older sister on "Modern Family," the 22-year old-actress is expanding into the world of beauty, most recently with her campaign for Heart Calgon. Considering the amount of hair and makeup chairs Sarah has been in, and the sheer number of red carpet appearances she's been making over the past few years, it's clear that the girl knows how to pull together a beauty look.
We caught up with the actress this week to talk about her favorite red carpet makeup, what she'll be giving for the holidays, and the products that are mainstays in her purse. Read on below!
Beauty High: What's your favorite product from Heart Calgon's holiday collection? 
Sarah Hyland: The holiday collection is amazing—the packaging is so cute and I really love it. Hot Date is my favorite fragrance from the new line, and I really think it's the best one to gift someone. It's perfect because the packaging is so cute and you really don't even need to wrap it.
MORE: Sarah Hyland Talks About What Scent She Wore to Prom, Beauty Must-Haves and More
What's your go-to look for a holiday party? 
It really depends on the party. I love a red lip with a clean face, but a lot of times I'll just do a liquid liner with some glittery eyeshadow. Metallic eyeshadow, really. Never glitter on my face. Well, maybe if I was 12…
You wear a lot of bold lipstick looks on the red carpet. Do you choose those or do you get talked into the looks? 
I choose to do the bold lips, but I try to space them out. My favorite lip colors are either nude or really, really bold. Right now I'm really into Superstition by Chanel and Prune Daisy by Dior.
What beauty products do you always have in your purse? 
I always have lip liner and lipstick, Aquaphor for my lips because it's super hydrating, and I always carry blush just in case I start looking a little pale. It's perfect for this time of year.
MORE: 10 Things No One Ever Tells You About: Bold Lipstick
While you're not filming, what's your beauty routine like? 
I start with moisturizer, and I use Dior foundation. I mostly use Dior and Chanel products, but I mix it up a little bit with L'Oreal and CoverGirl, too. My mascara is L'Oreal most days, but other days I'll go with a Chanel mascara depending on how I want my eyelashes to look. I use Neutrogena eyeliner for a brown liner look, and if I want a liquid liner look I'll go with L'Oreal. Then I do Make Up For Ever Bronzer just to finish it off.
Image via Steve Granitz/Wire Image