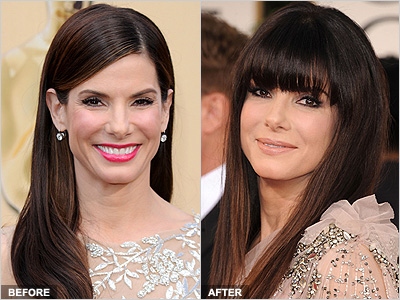 Before: © Jason Merritt/Getty Images
After: © Steve Granitz/WireImage
To say it's been a whirlwind year for Sandra Bullock would be an understatement. She won an Oscar, made out with Meryl Streep, got divorced and adopted a child in less time than it takes most of us to file our taxes.
Since her divorce, Sandy's been keeping an understandably low profile. We've missed her on the red carpet, so it was great to see her out in such fine form at last night's Golden Globes.
In honor of her red carpet rebirth, Sandra rocked a brand new look: blunt bangs. The bold, brow-grazing fringe is a big trend, not only at the Globes, but for Spring 2011 as well.
"I love bangs because they help women look youthful, chic and super modern. Bangs go in and out of style, but I think bangs are always bangin'," says celebrity stylist Ted Gibson.
Want to score this look at home? Ted says to ask your stylist to cut a slightly rounded, thick bang. Spray hair with a volumizing spray like Ted Gibson Build It Blow Dry Spray, then blow dry hair straight using a round brush to make it super-smooth. Apply an anti-frizz serum, then backcomb the crown for subtle lift. Spray with flexible hold hairspray to lock in the sexy, shiny style.
<a href="
/virtual-makeover/celebrity-hairstyles/11956″&gt/
;

Try on Sandra Bullock's Golden Globes hairstyle in the <a href="
/virtual-makeover/celebrity-hairstyles/11956/" title="Sandra Bullock">Makeover Studio!