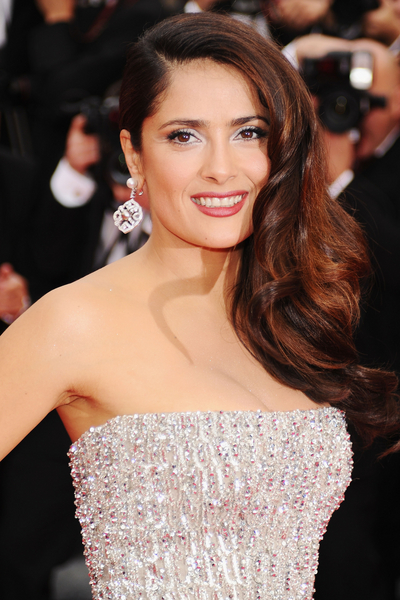 Photo: © Ian Gavan/Getty Images
One look at Salma Hayek in person and you can tell this is a woman who knows how to take excellent care of herself. At 45, she's a hands-on mom with the demanding schedule of a Hollywood star and a business mogul's wife (she's married to French billionaire Francois-Henri Pinault, CEO of luxury brands firm PPR which owns Gucci, Yves Saint Laurent and Balenciaga), yet I couldn't detect a wrinkle, blemish, dry patch or hint of fatigued dark under eye circles when we met to talk about her new beauty line, Nuance.
She credits her enviable good looks, as well as the creation of Nuance, a 100 item line that covers skincare, hair care, body care and makeup, to three things: 1) her grandmother, 2) her mission to improve women's self-esteem and 3) her daily need for "me" time.
Try on Salma Hayek's hairstyles in the Makeover Studio!
"My grandmother was like a witch in our little village in Mexico. She knew how to cure all sorts of ailments using herbs, plants, and a lot of different exotic ingredients. Women from all over would come to her for help and even to deliver their babies. My new beauty line is based a lot on her own personal recipes that I know work," explained Hayek. Prickly pear, quinoa, raw honey, mamey fruit, and blue agave are just some of the exotic ingredients she uses in the line. I personally love the My Secret Super Moisturizing Body Cream, which contains shea butter, honey, babassu, macadamia seed oils blend and vitamin E. (I swear I think it has helped minimize the appearance of stretch marks.)
One would think that with the use of these special ingredients coupled with the fact that Salma Hayek is the perfect candidate to launch a luxury brand, that Nuance would be sold in fine department stores with a hefty price tag. But, instead, she chose to work with CVS drugstores and set the price range of her products from $2.99 to $19.99. "Self-esteem is a global problem for woman and sometimes the little things you can do to make yourself feel better make a big difference. I wanted the line to be very affordable so all women can take care of themselves and feel confident," she explains.
She also enthused about her own personal nighttime ritual of washing her face and putting on her skincare. "It's that moment where I close the door and no one is allowed in for 10 minutes. It's me time and I need it at the end of every day to keep sane and wash the day away," says Hayek. The Oxygenated Activated Foaming Face Wash, which she was so excited about she demonstrated it right there at the table, builds up to such a rich, creamy lather that it's now become my nighttime ritual as well. Here are a few more beauty tips shared with me:
Don't put too much stuff on your skin at night because that is when it is regenerating and it needs to "think." If you overwhelm it with products, it won't function properly. Just use one great night cream.
You don't have to wash your face in the morning if you cleansed it thoroughly the night before. Splash it with water, then put on your day cream. Always try to keep things simple.
Find that one lipstick that looks so natural on you, you don't need a mirror to put it on and keep it in your purse all the time. Hers is Color Vibrant Lipstick in My Favorite (obviously) which her husband has told her is the best he's ever tasted. Sweeeet!


Try on Salma Hayek's hairstyles in the Makeover Studio!