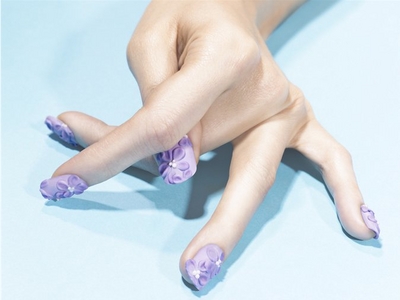 Photo: Raymond Meier/ NOWNESS
New York Times' T Magazine Editrix, Sally Singer, has brought us a slew of ornate spring trends, from pastel hair to Thakoon's collection for NARS. But now she has teamed with NYC nail artist Maki Sakamoto to create the most opulent manicures we've seen in seasons.
Singer is a nail art conosuire, and her five dazzling creations for NOWNESS are a testament to her progressive view of beauty (as opposed to her New York head-to-toe black style).
Singer's first design is a purple, 3D flower conception called Powdered Violet that looks fit for a wedding cake. Followed by Celine Orange (tangerine lacquer with a green decal), Mexican Sugar Skulls (fit for the Day Of The Dead with festive, colorful skulls), Taxi Driver Seat (brown and beige beads), and Kate Middleton (glittery royal blue polish painted with crystal crown outlines), the editor's vision is fully realized in a highly produced, and certainly not DIY, feast for the eyes.
Will you try to recreate this pro-level nail art, or is this spread just eye candy?