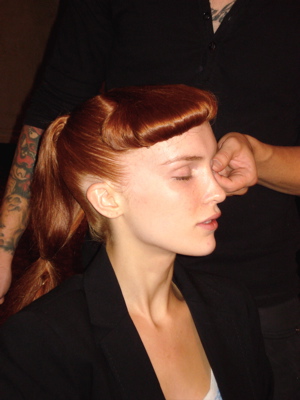 The futuristic rockabilly faux bang.
The Cynthia Rowley girl lost a bit of her girly innocence and gained a harder edge thanks to the backstage beauty pros.
Working with the theme of a beautiful girl who turns runaway, MAC lead makeup artist Makky created a strong eye look with a big emphasis on color. He used a blend of cream shadows in sky blue, magenta and violet to create a light pinky-purple wash of color that extended all the way to brow bone. To add that tough edge, he lined eyes in black liner in a slightly 50's shape, but kept it from being too retro by cutting it short at the end of the eye instead of winging it out into a cat-eye. Lashes were curled and left free of mascara (an emerging trend we're seeing for spring).
Skin was semi-matte with highlighter on the cheekbones and slight contouring on the cheeks. Brows were groomed but not enhanced and lips were left bare and natural.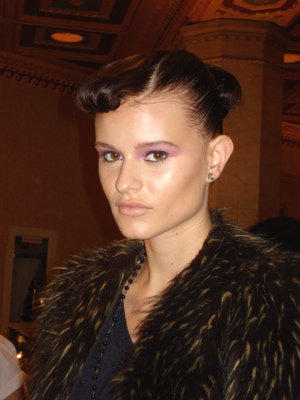 The finished look
Redken lead stylist Bok-Hee created a hairstyle that was a mix of "50's retro plus rockabilly that's a little futuristic". To create the look she sectioned models' hair into two parts and pulled the back section into a ponytail that was dry and loose in the back and tight and sleek on the sides.
She then took the front triangle section of the hair and created a faux rolled bang by wrapping hair over a wiry mesh hair donut she had removed the stuffing from and cut to fit the models' forehead, pinning it in place. She made the bang off-center so that the edge of it hit exactly where the models' right eyebrow begins, giving it a slightly off look.
To finish off the hairstyle she sprayed models' hair with Redken Workforce 09 Flexible Volumizing Spray to clean it up and make it look super shiny and polished.