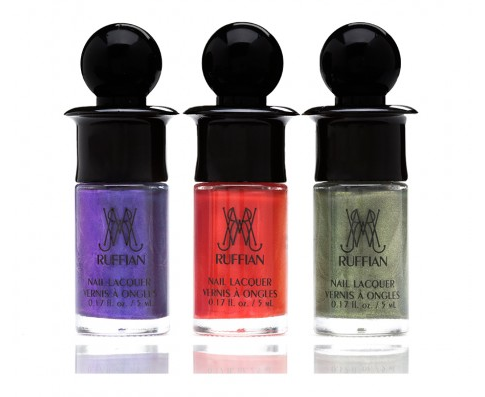 If you're a stranger to the Ruffian Manicure, take a moment now to Google the term. Your search will yield countless examples of the now famous half-moon manicure that first debuted on the Ruffian runways, a combination of glossy oxblood and metallic gold nail polish. Over the past few seasons, Ruffian has put nail art and polish on a pedestal, consistently bringing a fresh perspective on the trend to the high fashion runways. They've partnered in the past with MAC Cosmetics for a limited-edition collection of lipsticks and press-on nails, but their latest venture into the beauty world has us absolutely giddy.
Beginning today, Ruffian's own line of nail polish, The Crowdsourced Collection, will be available exclusively at Birchbox. Back in February, the brand took to Facebook to get their fans' opinions on which nail polish colors should be brought to life. Today, the nail polish collection [above] has come to life, with the winning colors being bold and fashion-forward.
The unique bottle shape is attributed to ease of nail art. Brian Wolk and Claude Morais say, "In terms of the bottles, we wanted something that was fresh, modern, and never seen before. We are always inspired by our girlfriends' vanities and wanted to create a bottle that was worthy of display. Deco is something we always look at for our collection, and it inspired our Ruffian crest, so when creating our signature cap that was definitely a design influence. The ball cap also allows great control for nail art details, which was important to our fans." Ease of nail art right in the bottle? We're sold.
Where to Buy: Ruffian Crowdsourced Collection, $24, Birchbox.com
[Style]
More From Beauty High:
Ruffian to Introduce Nail Polish Line With Birchbox
Ruffian Uses Velvet Nails & Brings Back Ruffian Red For NYFW
Nailed It: Get All the Details On Ruffian's Veiled Nails at NYFW