It's a technique that is essential in creating cute hairstyles, but a 3-strand braid, as chic as it may always be, can sometimes feel a little dull compared to all the other looks out there which is why there are so many other options, like the rope braid. Even the average French braid doesn't always hold that "something special," that spark we're looking for, whether it be for a special event or just a break from the wash, curl, repeat routine we so often set ourselves up with. A solution to this plague of a rut in your styling schedule? There's a ton of new and improved twists on the age-old hair sculpting technique that are, yes, totally doable to DIY. We're bringing you a tutorial series of new twists on braids in GIF form so that you can watch, practice, and repeat until you get it right. First up, a fancy rope braid created by Judy McGuinness, Senior Stylist of Mizu Salon in New York City, that incorporates regular and fishtail braiding.
MORE: 3 Pretty Takes on the French Braid Bun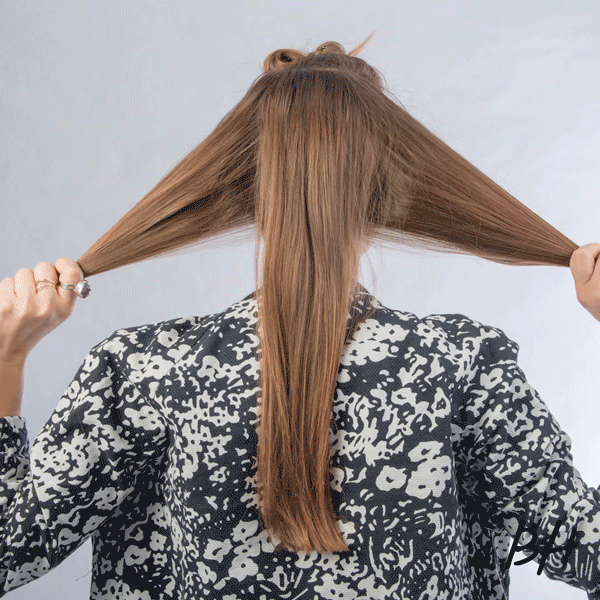 1. To begin, prep your hair with a texturizing powder or spray.
2. Pull all the hair to the back of the head and lightly tease the top section of the hair—or the hair at the crown of the head that would create a mohawk.
3. Section off a small portion of hair from the crown and clip it out of the way. It's best to clip it on the top of your head so that it doesn't get in the way of your braiding, which you'll be doing shortly!
4. Start a three-strand braid. Continue doing this until you get about half-way down the length of the hair. Secure this with a clear hair-tie.
5. Next, McGuinness explains you take a tiny section of hair from the back of the braid and wrap it around the base of the hair-tie. This will hide the elastic. Pin this into place in the back.
6. Begin to fishtail braid the bottom, unbraided section of your hair. Secure this at the very end with an elastic.
7. Remember that top section of hair you clipped away? Unclip it so that it's laying flat on the crown of your head. Wrap it around the base of the original braid (near the nape of your neck) and pin in into place in the back.
8. Take hairspray and lightly spritz the braid to keep it in place.
9. Using your hands, gently separate each section of the braid to give it that messy, loose look.
MORE: 8 Waterfall Braid Ideas