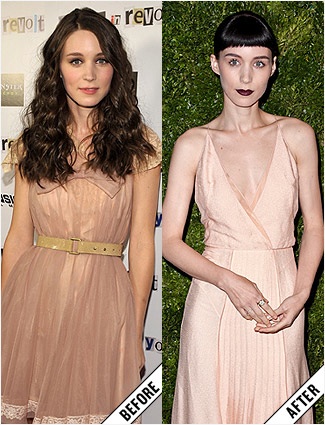 Photo: © John Shearer and D Dipasupil/Getty Images
Rooney Mara has taken method acting to the red carpet. The once feminine and romantic actress has garnered a fan base of fashion editors with her newfound gothic style, thanks to her role as Lisbeth Salander in The Girl With The Dragon Tattoo.
Mara's 14-month stint as the androgynous, waif-framed computer hacker has left some residue on the actress's real life. She walked off the set with a shaved head, nipple piercing, and Golden Globe nod, but the most drastic effect has been had on her wardrobe.
"My wardrobe has completely changed. It had to, partly because of my hair and partly because I stopped feeling comfortable in what I used to wear," said Mara.
The 26-year-old New York royal (her family has a long history of founding and owning football teams like the Giants) followed older sister, actress Kate Mara to Hollywood as a teenager, and nabbed the much sought after Lisbeth Slander role from silver screen vets like Scarlett Johansson.
Which Rooney Mara style do you prefer: Youthful romantic, or edgy fashionista?