This wedding season, we're transforming real-life brides-to-be as part of our Real Girl Makeover series. Our latest subject is Katie, whose summer wedding outdoors calls for a fresh-faced, romantic look.
What bride doesn't want to look like a goddess on her wedding day? For Katie, this meant a hair and makeup that harmonized with her wedding's natural, outdoor setting. "I will be getting married on my family friend's beautiful grassy grounds," the 30-year-old gallerist explained. "The style that I envision is boho-romantic-chic."
"For a boho or a beach wedding, it might not be as much makeup. It might not be as much of a formal feel," said Director of Global Artistry for Bobbi Brown Cosmetics Kimberly Soane, who created a makeup look for Katie to bring out her natural beauty, not overpower it.
"We did a rose gold color on her eye, a rose gold color on her cheek, and a rose gold color on her lip. Having it be monochromatic helps it keep that natural effect," Soane explained. "Rose gold works on so many skin tones."
In lieu of foundation, Soane applied Bobbi Brown Light Tinted Moisturizer SPF 15 with her fingers to give Katie's skin a glowing finish. On the cheek, she paired Shimmer Brick Compact in Bronze with Pale Pink Blush. "You want to use a powdery shimmer to create that iridescent, angelic glow to the skin," she explained. "We added a wash of the pink blush on top so that you still get a bit of the flush to the cheek."
On Katie's eyes, Soane applied a wash of Champagne Quartz Metallic Eye Shadow over the lid. "Instead of doing liner across the eyelid, we just did a chocolate powder shadow because that gives a soft diffusion and more of the ethereal, romantic feel." To help Katie's eyes pop in photos, she tightlined with black along the top lashes and applied black mascara, and added a soft highlight at the inner corners of the eyes.
Soane finished the look with a creamy — not shimmery — lipstick. "When you're doing shimmer, you just do shimmer on one or two spots on your face."
The makeup look was the perfect match for Katie's fishtail braided hairstyle, created by Ryan Mitchell and Daniela Schult of Cutler Salons. To build the perfect, romantic texture, they started by curling the hair with a one-inch curling iron, spraying each section with hairspray before wrapping it around the iron. "Sometimes with a boho look, it's nice to leave the roots and the ends a little straighter than the mid-lengths," Mitchell explained. "If it's curled too tightly it becomes too glamorous."
They added Redken Powder Refresh 01 dry shampoo, then created a fishtail braid along the hairline on each side of the part and secured the two braids in the back. The key to this look, according to Mitchell? "Break up the braid so you get that loose, ethereal, romantic feel."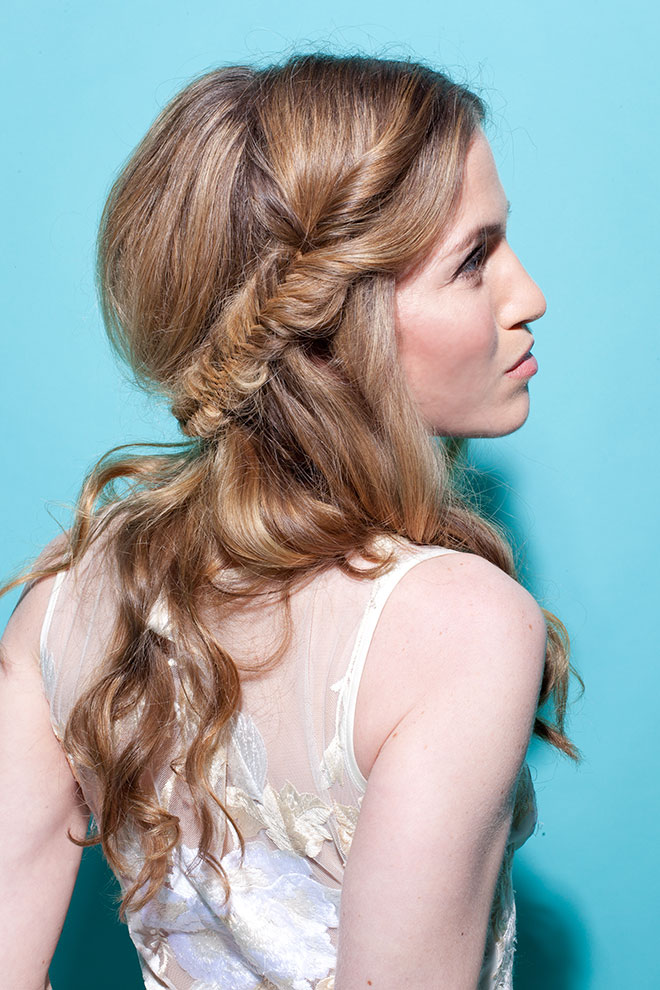 Credits:
Photographer: Angela Pham
Hair: Ryan Mitchell and Daniela Schult for Cutler Salons
Makeup: Kimberly Soane for Bobbi Brown Cosmetics
Stylist: Ann Brady
Katie wears: Claire Pettibone Willow Dress (clairepettibone.com); C.Wonder bracelet (cwonder.com)