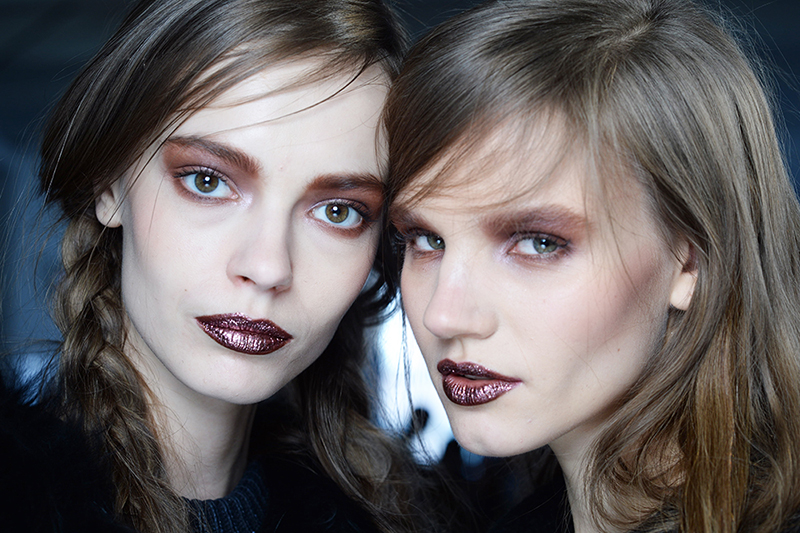 There are always a few standout fashion shows each season, in both the beauty and fashion categories that simply make our jaws drop. Rodarte is one of those shows – bringing the entire look together, from the nails down to the hair accessory. The Fall 2014 show was of course no different, stunning everyone with their glimmering wine lips and smokey eyes, and perfectly tousled hair (held back with butterfly barrettes).
James Kaliardos, lead artist for NARS, noted that he wanted to create a "delicate and youthful" beauty. The look was all about an ephemeral and nostalgic, yet beautiful glow, and Kaliardos is never one to shy away from color – so he created a look that not only brought a glow to each girl, but brightened up the models faces with a touch of fall hues. For the eyes, Kaliardos used a new NARS duo called Dolomites, blending the shadow across the crease and up into the brow bone. He then added Larger Than Life Lengthening Mascara to the lashes, and brushed up the brows with Brow Gel.
MORE: Marc by Marc Jacobs Goes for Lived-In Makeup, Slick Pigtail Braids
For those gorgeous glimmering lips, Kaliardos created a base with Mambo Eyeliner, and then layered over it with Deborah Audacious Lipstick, a new shade for fall. He topped that off with Rouge Tribal Larger Than Life Lip Gloss, and a touch of glitter, of course.
As for the hair, Odile Gilbert for John Frieda created soft, subtle waves that were pulled back to one side and secured with a hand-made Rodarte butterfly pin. To get the look, Gilbert split the hair into two sections and created long braids and dryer it to get a subtle wave. She then worked Frizz Ease Unwind Curls Calming Creme through the hair to give it a relaxed texture. Taking a section of hair from the front, Gilbert twisted it up and back and pinned to secure, and then placed the hair accessory for a finishing touch.
On the nails, the models wore two coats of Sally Hansen for Rodarte's new polish, Pink Dream, an iridescent glitter, which will hit stores in September.