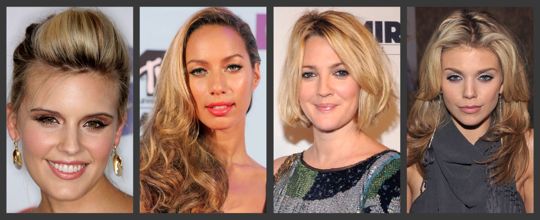 Photos: Frederick M. Brown/Getty Images, Dave Hogan/Getty Images, George Napolitano/FilmMagic, John Shearer/WireImage
As anyone who colors their hair knows, roots are the cardinal sin of hair dying. Or so it used to be. Recently, we've been spying more and more celebs, especially of the blonde variety, who are sporting some major roots on the red carpet. In fact, it's almost as if they are showing off their rootage. What gives?
According to Eva Scrivo of New York's Eva Scrivo Salon, roots actually look more natural than uniform color. "The depth created by a root line looks more natural and allows women to feel that their hair color looks a bit more lived in. It feels more organic opposed to an opaque single color, which can look almost wig-like," she says.
Women have become nothing if not more savvy about their hair color, which Scrivo states as the reason roots have become more acceptable. That's great news for the lazy and/or cash-strapped among us who can't afford to get color touch-ups every 4-6 weeks. Just don't think this means you can rock a totally two-tone 'do. Showing roots looks good if your natural hair color is just a few shades darker than your dye job, say chestnut brown roots with caramel strands. Someone with hair that's naturally dark brown with platinum blonde hair dye is going to look a bit silly with their roots showing.
If you love this look and want to enhance your natural roots even more, Scrivo suggests asking your colorist to add a few highlights at the part of your hair and around your face. As your roots grow out, the highlights will help "break" the demarcation line and enhance the root look. For a softer lift, try doing this with a glaze or semi-permanent color instead.
On the flip side, if you think roots are something to be hidden and not flaunted, there are some quick and simple ways you can hide root growth until you can get to the salon. Instead of a straight part, create a haphazard zigzag part–this will blur the line of your roots and make your color look more blended. Or try a tinted dry shampoo like Bumble and bumble's Hair Powder or Neil George's Refresh Dry Shampoo. According to Scrivo, spraying dry shampoo in the root area gives your hair lift and the tint helps to lighten up dark roots, hiding re-growth and making them less noticeable.
Do you bare your roots or hide them away?
As one the web's largest beauty sites, DailyMakeover.com constantly receives products from beauty companies for editorial review. Please read our Editorial Ethics Pledge if you'd like to know how we select products to feature.