If you ever look closely at the glam squad credits on the Kardashian's Instagram uploads, you might just spot Rob Scheppy's name. As a makeup artist to some of the most buzzed about celebrities (um, Kim K and her beauty savvy sis Kylie Jenner), Rob Scheppy knows his stuff—especially when it comes to contouring, a technique that chisels your cheekbones, has only continued to grow in popularity over the years, and requires a set of quality brushes. Rob Scheppy was recently named the celebrity ambassador for Tweezerman, a brand that you might be surprised to find out sells a line of pretty amazing brushes in addition to the beloved brow tools, and in his new role, sat down with us to give us the ins and outs of face contouring like a Kardashian. Rob even gave us some insight on the makeup techniques to use to make your lips appear fuller and larger—you're going to want to invest in some pencils! Check out his tips below and take a look at Tweezerman's brush iQ new mini contouring set, too.
What's the biggest mistake that women make with contouring?
Maybe the application, maybe it's not the best tools, or the best products they're using. But mistakes lead you to make better choices, so it's not a bad thing to make mistakes. You definitely want to get the best quality tools to create any makeup look. For me, this [Tweezerman brush set] is them. This is the first synthetic line of brushes that really emulate real-hair brushes. Real-hair brushes are genuinely better for makeup—picking up the product for application. The problem with synthetic is that because they're so plastic-y feeling, they don't really grab the product and apply it as good. I don't know the technology that they used, but it's so good because it works the same as real hair. In today's world, people have allergies to animal hair and there's the animal-cruelty factor. There are so many variables. For me, this is a great tool on every level. They work really well with blending a product. Second, it's just giving yourself a few times to figure it out. People should give themselves the time to learn and practice, and I think that's the key in learning any technique in makeup.
Blending is so important in contouring. How do you prevent that line you create into the rest of your foundation? How do you know where to blend?
That goes back to using the right tools. In the application you want to create that definition that you're looking for, that contrast. This one [the mini pointed foundation brush] I love because you can literally dip it into the product and it's like a pencil at the top. You can really put the placement really well. With the bigger one [the mini contour foundation brush] and even the sponge, you can really blend that out. It's not about blending it in and bringing it down. It's blending it in that one spot and diffusing it. If you don't have the right tools, you won't get that diffusion that softens the lines. With a real cheekbone, you'd have the shadow in there. You're creating the shadow with product and tools. This will allow you to make it look really flawless.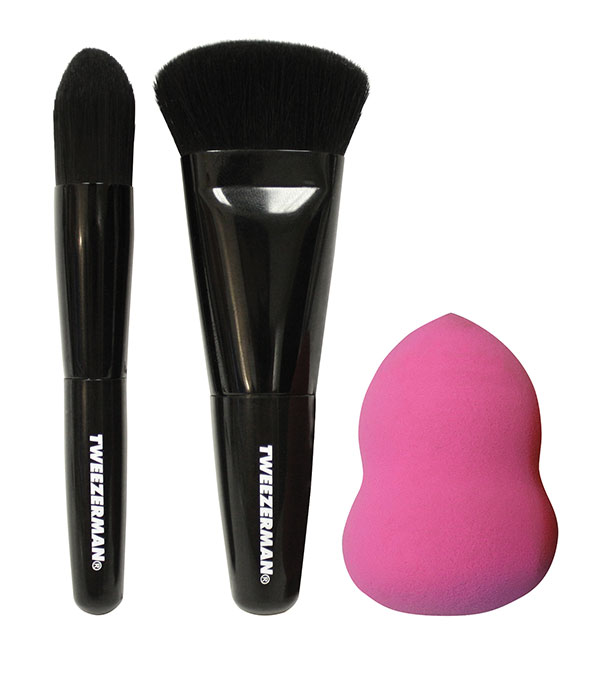 How do you decide what tones to use to create that first contour line?
If I'm explaining it to you, for example, you look at your skin tone. You're fair. If you look at a palette of 12 colors from light to darkest, you want to go one to two shades darker. You might see on YouTube people drawing lines and then blending them. That's a visual effect to get you to see how it works. In the real application, you're not really drawing that dark of a line. It really is going a shade or two darker to have the dimension effect to give the contour. If you go too dark, it obviously looks crazy to most people.
How important is the base? Can you contour on a face that doesn't have any foundation on it?
I don't have rules for that. I work with makeup— but I do it for television, for runway, for magazine shoots—so my technique and application is allowed to be different for different situations. But if you're just that regular girl on the street going to work or going to school, I would say to apply the foundation you're going to use to match your own skin and apply that evenly everywhere, even on your skin tone. Then, go on top with the deeper shade in the same tone, just one or two shades darker. That way, that product will blend with what's already there. If you go straight to skin, depending on your skin type, the foundation could separate or catch in one place and not the other. You don't have a great application. Going back to tools, if you're using the tools that are able to create that softness, then you'll be fine.
The Kardashian contouring is so chic and you notice it. It's become a thing. What's the difference between that type of contour and the everyday contour.
I guess I'm not saying there is a difference. What I'm saying to you is maybe what's appropriate for your life. The Kardashians live their life on camera. They're always at a photoshoot. They're always at a red carpet. They're living in that element, so what that makeup looks like is appropriate for where they're going at all times. That can look great in any situation, but socially is it acceptable to wear that makeup if you're in school or depending on your type of job? I'm not sure. If you want it to not look as defined, go a little bit softer with the colors. Maybe in those situations, you can have the same effect of contouring, but maybe it's not as, I mean, there's variants to how in-depth you can go. If you're looking at a fair skin girl all the way to a dark skin girl. Or the girl that's working at a bank all the way to the boy that's a drag queen at night, that makeup is so different, but it's still the same technique.
If you want your contouring to really stand out, how do you do that?
If you want something to stand out, then it has to have contrast. In the way that if you have a nude lip on, it wouldn't stand out against your skin tone as much as a red does. It's knowing your self and your skin type and doing a little research. Honestly, it's just seeing what you're comfortable with, too. It's also the level of contrast with how dark you go is your comfort zone. It's actually your comfort zone and the color difference. If you're pale and you throw on a dark line, if you're comfortable with that, rock it out. If you're not, what I'm saying to the regular girl, go a couple shades darker. Don't get crazy. If you are the crazy girl, rock out the black line. Go for it. As long as you pull it off and you are comfortable wearing it, you can do anything.
MORE: Why Your Foundation Isn't Performing As It Should
Contouring is so generally associated with your face but you can contour your lips, too.
Your lips, your nose, your eyes. You can literally reshape and redefine with makeup, any part of your face. Even for body.
Do you have any tips for contouring your lips?
Yes. Depending on your lip shade and what color you're using, if you using a bolder color, you don't want to go too much bigger because it's too obvious. The more natural tones, like lighter colors, or whatever your natural tone of your lip is, if you find a pencil that matches that better, you could overdraw the line around your whole lip with the liner. There's so many variables. In general, I use a pencil and I overdo the lip line. Like on you, I would go a whole other line over that. Color works differently because you notice it more. You notice flaws more when the contrast is too much. The more contrast, the more flaw. The less contrast, the less flaw you can make. If people are looking for a flawless look, it's the less contrast.