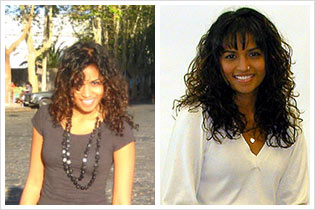 Remember Ritu of 20 Something Girl? In December, she found a look she loved through our virtual makeover tool. She liked it so much she decided to commit! Here's what she says about her freshly-cut bangs:
"Normally when people think of bangs, they immediately think of the straight hair and sharp bangs look like Lady Gaga's do. However, for us naturally curly haired girls, there's a fab alternative. Wavy bangs while the rest of the hair is left curly is a surprisingly cute and sexy look. The first time I tried this look, it was because I was too lazy to blow out my bangs. I got so many compliments that day that I do this look constantly now. It's my own personal twist on the bangs trend. Now that everyone and their sister is getting bangs, I can still stand out with my wavy bangs and curly hair combo."
Ritu shows how giving a trend a twist can help you create an entirely original look while still staying stylish.