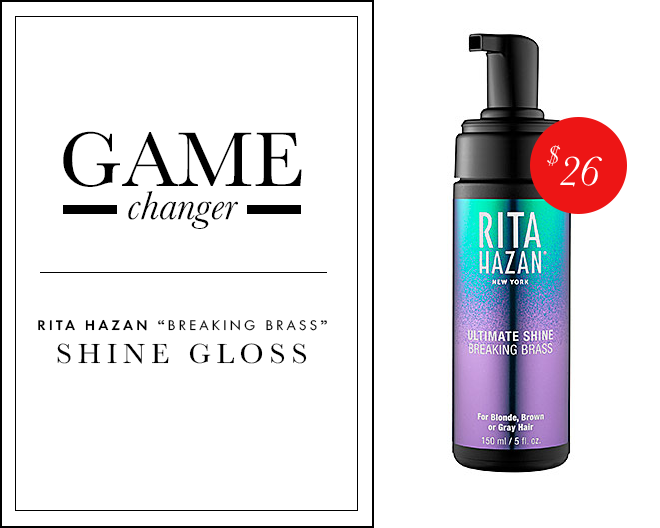 In our new series, Game Changer, we're highlighting products that are so good, they are having a significant effect on our beauty routines.
Most color junkies are all too familiar with the ongoing plight of fending off brassiness. We may leave the salon with the perfect balanced beige-blonde or chocolate brown, but it's only a matter of weeks and washes before oxidation rears its ugly head, leaving our chosen color looking awfully orange.
The obvious manner in which to address emerging brassy tones is to head back to our trusted colorists for a quick counterbalancing glaze. It sounds easy enough, but between making the appointment and getting to the appointment, sometimes that "quick" salon trip just doesn't happen. From there, our only options are pretty much a) attempt to tone it out ourselves (not recommended) or b) suffer accordingly. Needless to say, we have done a lot of suffering.
Hairstylists across America must be kicking themselves right now, because all it took was one genius celebrity colorist to develop a mind-blowingly simple, easy-to-use product that solves the brassiness conundrum once and for all. Rita Hazan Breaking Brassiness Ultimate Shine Gloss ($26, sephora.com) doesn't deposit color or anything else that would make your colorist angry. Like those purple shampoos and conditioners that are great for cool blondes, the foamy formula uses a blue tint to counteract brassiness and leave your color looking true to your desired tone.
Rita recommends using the gentle gloss up to four times per week on wet hair after shampooing and before conditioning. My hair is dry as the desert and seriously color-damaged, so I've taken to mixing a few pumps with my favorite deep conditioner and leaving on for 10-15 minutes for ridiculously shiny, happy, perfectly toned hair. We wonder which of Rita's clientele must have requested the solution—was it Mariah Carey? Jessica Simpson? Brooke Shields?—because I'd really, really like to thank them personally.
Read more: 4 DIY Ways to Lighten Hair Naturally