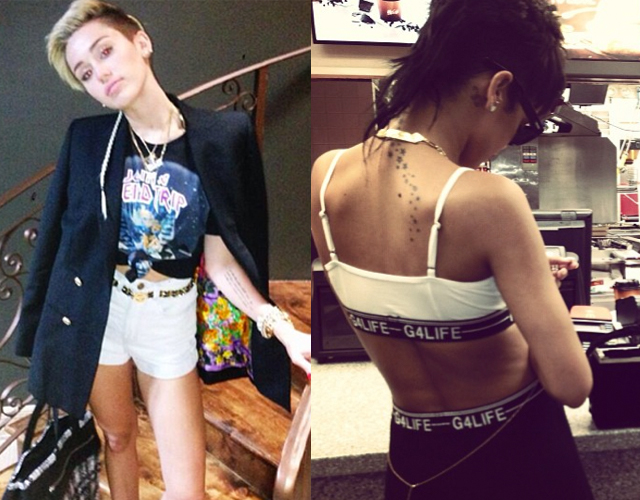 We've had a lot of hair changes in the world of celebrities lately: Beyonce went from flawless long locks to a pixie to a bob before we could wrap our heads around her new golden hue, and Rihanna has been rocking short, curly (possibly natural) hair for almost two weeks now. But, what may come as one of the most daunting looks yet, both Miley and RiRi have been spotted recently with hairstyles that haven't been seen on anyone except for Honey Boo Boo's childhood friends.
MORE: The Good, The Bad & The Spikey: We Rank All of Miley Cyrus' Hairstyles
Miley first showed off her blonde, braided "rattail" about three weeks ago with what we've learned is a clip-on braid extension. Then, RiRi turned up at a McDonalds in NYC (don't you all wish you had been craving McD's breakfast, too?) with what can only be described as a mullet, with a well-groomed rattail at the back. We certainly hope this "trend" doesn't catch on to anyone else (Bey, we're talking to you) and we're hoping that it was a "just for fun" thing – or maybe they couldn't make it to their stylists' in time…
No matter what the case, what do you guys think of the look? Vote in the poll below!
MORE: Rihanna Debuts Grey Hair: Is She Bringing the Color Trend Back? 
Images via Badgalriri and MileyCyrus