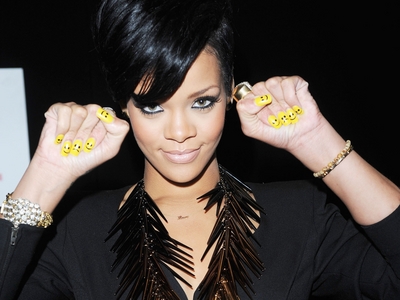 Photo: © Jon Furniss/WireImage
CND's Shellac nail treatment has been invading nail salons across the country since it launched last year, spawning several brand knock-offs and a cult celebrity following. Among the stars who can't get enough of the four-step process that cures under a UV lamp to give a two-week chip-free finish: Rihanna.
As an original member of the CND fan club, Rihanna rocked a Shellac manicure in Wildfire for her cameo in Eminem's 'Love The Way You Lie' music video, and stopped in Milan for a VIP appointment with brand manicurist Flavia Pitton, who Shellacked the diva's nails in Black Pool (a stark, jet black).
Try on Rihanna's hairstyles in the Makeover Studio!
"I love the easy application and the 'just like polish' appeal that make CND Shellac'd nails always so chic, even when you go for a trendy design," Pitton told US Weekly.
We hear Rihanna takes her music video styling seriously, as her on-set regimen goes far beyond permanent manicures. The singer had a 2 am emergency bikini wax while shooting a video in Ireland recently.
Which Rihanna look is your favorite?
A source dished, "Rihanna arrived at her hotel very late and the first thing she wanted was a bikini wax. The video shoot was scheduled for the following morning… Her assistants got on the case quickly and called some beauticians after finding a directory on the web. It was a relief all around when they finally managed to find someone."