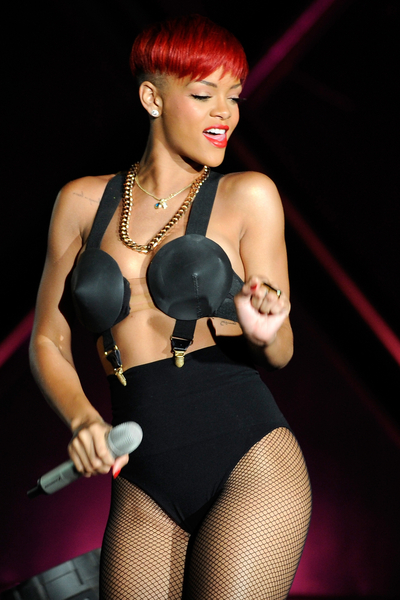 Photo: © Fotonoticias/WireImage
Rihanna doesn't think there are enough African-American women in fashion.
The "Russian Roulette" singer, who recently dyed her blonde locks a vibrant red, believes her advertising campaign for fashion house Gucci was a "big deal" because it was such a break from convention.
She said: "It's clear there are definitely fewer black women in the high-fashion industry. One of the things I respected most about Gucci was that they did a print campaign with me. I'm a black girl on a fashion spread for Gucci–that was a big deal."
The Barbados-born beauty also spoke of her "respect" for designers who
refuse to stick to using slender, white women models and promote diversity
on the catwalk.
She added to Elle magazine: "I respect designers who aren't afraid to go outside the box. I went to a Jean Paul Gaultier show, and I saw girls
who are thicker than me, beautiful and voluptuous and different ethnicities.
That made me so excited. I thought, 'Okay, I can work that, for sure.'"
Rihanna, 22, has previously spoken about how "fun" she finds fashion.
She said: "Fashion is not a burden for me. It's quite the opposite. Fashion
is just like music–a great way to show my creativity. Style and design are
very important for my development as an artist. And it's of course extremely
fun."