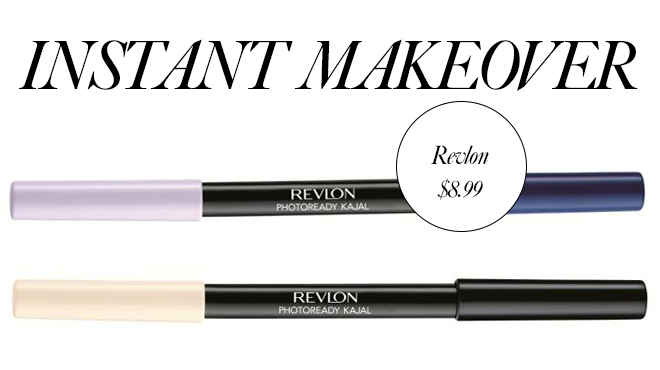 Occasionally we come across a product that bestows an immediate glow, changing our look (for the better!) in an instant. Since we'd be remiss to keep them to ourselves, we highlight these genius finds in our Instant Makeover series.
From the stress and late nights of looking for a new apartment in Manhattan, you could say I've had a few nights tossing and turning. While my favorite concealer, Benefit Erase Paste, hides my under eye bags instantly, my eyes still need a little pick-me-up. That's where Revlon PhotoReady Kajal Intense Eye Liner + Brightener ($8.99, available June 1st at revlon.com) comes in.
The dual ended stick has a dark shade on one end for bold color and the other is a brightener to open up the eye and make irises pop. Because black liner around the entire eye can actually make it look smaller, I use the dark color on top, moving down to the outer corner and halfway across the water line. The creamy texture is perfect for smudging and creating a soft romantic feel to the look. I then close the eye with the highlighter, drawing to the inner corner. It creates the perfect combination of definition and brightness to bring my eyes back to life.
Available in four shades: Carbon Cleopatra (Black and Cream), Blue Nile (Blue and Blue-White), Purple Reign (Purple and Off-White), and Emerald Empire (Green and Nude). My personal favorite is the emerald because it really makes my hazel irises stand out. (Find the right shade for your eye color here.)  

Read more: 5 New Ways To Wear Statement Eye Makeup