Ombré hair color has been around for years, and it doesn't seem to be losing any momentum. Instead of fading away, the look is taking new forms — from a more natural progression of subtle color to the reverse ombré, which is lighter on top and darker at the ends. Seen on the likes of Beyoncé and Gwyneth Paltrow, the look is slowly making its rounds among celebrities, and now we're ready to try it ourselves. Marie Robinson, Clairol Color Director, recently gave us some tips on getting this look at home using Clairol Nice 'n Easy ($9, clairol.com), stripping us of our box color phobia.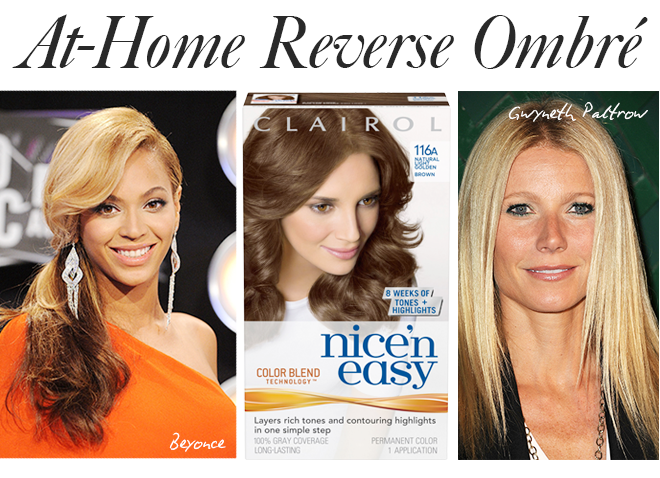 Choosing Your Shade
Marie suggests using two shades in the same tone family, the first 1-2 shades darker than your current color for the mid-lengths, and the second 3-4 shades darker than your current color for the tips. You want a contrast that looks natural.
Prep
Divide hair into four large, equal sections. Secure each section with a plastic clip.
Application
1. Prep the lighter shade. Apply the dye several inches away from the scalp to the mid-lengths of the hair on all four sections. Make sure to coat the hair using a zig zag moition so the color doesn't streak.
2. Prep darker shade and apply from the ends of hair to the middle where the first color ended. Again, coat in zig zags.
3. Let sit for 25 minutes. Then rinse.
For blondes, like Gwyneth and Beyoncé, go with a brown or dirty blonde at the tips for contrast. For naturally dark hues, it's a little trickier to get that difference in color. Marie suggests going a little red with your base and finishing with dark tips.