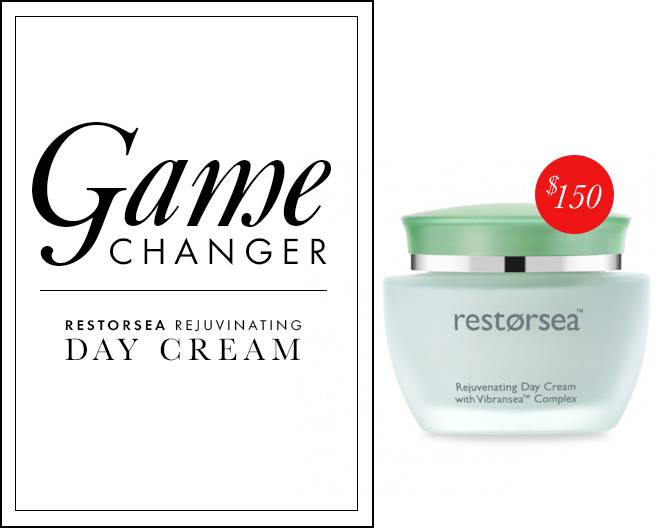 In our new series, Game Changer, we're highlighting products that are so good, they are having a significant effect on our beauty routines. 
This time of year, we're focused on pampering our skin, and with all the crazy weather we've been having (here's looking at you, Polar Vortex), we've pretty much become obsessed with our skin care routine. After all, no one wants a dull and flaky complexion—which is all too easy to acquire during the more frigid months of the year.
But between exfoliating and moisturizing in the pursuit of dewy perfection, we have our work cut out for us. That's why we're just so into Restorsea Rejuvenating Day Cream ($150, restorsea.com). Its two-in-one formula packs both exfoliating and moisturizing benefits and leaves our skin smoother and softer, lightens discoloration, and fights the signs of aging. Plus, it does all of this with zero side effects (buh-bye, peeling, stinging, and redness).
So how does this dream cream get you one step closer to skin nirvana? It contains an enzyme, Aquabeautine XL®, that's produced when baby salmon are born and yields the same benefits as Retin-A. This superstar ingredient exfoliates dead skin cells without irritating your skin—unlike other commonly-used exfoliants like glycolic and citric acids, leaving behind a brighter and smoother complexion.
Just a few weeks worth of use have left us with skin that's just a whole lot prettier—so much so that we're getting compliments on our healthy-looking complexion. Our dark, Dalmatian-worthy spots have faded, texture has improved, and we've even noticed less oil production. So if there's one thing we're betting on this winter, it's this little elixir.
Read more: Philosophy's New Foundation Is a Must-Have