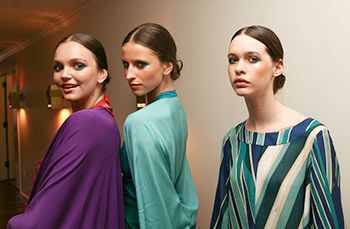 The models show off their finished looks backstage.
Photo: Dan Lecca
I love doing backstage work for fashion shows, but everything is always so hectic and fast-paced. So I was really surprised when I showed up to work the Issa Resort 2010 presentation and found how calm and relaxed everyone was.
There's a whole different vibe there, a kind of casualness to it because when you think of Resort, you think about being on vacation somewhere luxurious like St. Tropez or Miami. Everything is calm and relaxed and very go-with-the-flow because everyone involved is thinking about being somewhere gorgeous and totally relaxing. It definitely helped make me feel calm!
I wanted the hair to look like the models had did it themselves and I didn't want to detract from all the gorgeous garments. There were some fantastic prints, elaborate necklines and sophisticated details in the line. I wanted the hair to be a compliment to the collection, not take away from it, so I decided to do a simple, classic bun with a subtle, summery texture.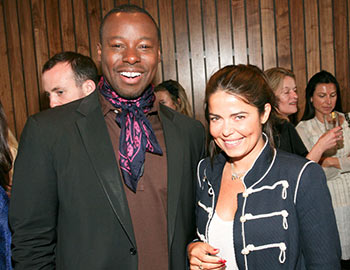 Designer Daniella Issa Helayel and I at the show.
Photo: Dan Lecca
I started off by using Hair Sheet Styling on dry hair to create a slightly textured, yet still shiny finish. I center-parted the hair, then gathered it all back and sprayed it with Beautiful Hold Hairspray to create a flexible hold.
To create the DIY bun, I pulled the hair into a low ponytail, securing it with a hair bungee and then turned the hair onto itself to make it into a low chignon. The end result was a casually chic style that really brought out the details of the clothes. I love the way the bun looks with all of those beautiful dresses — it makes me want to go on vacation!
Remember, Beauty Is Individual
As a celebrity hairstylist, I often receive samples of new products directly from beauty brands to test out. Any product I mention in this blog is one that I've tested out myself, in accordance with Daily Makeover's Editorial Ethics Pledge.