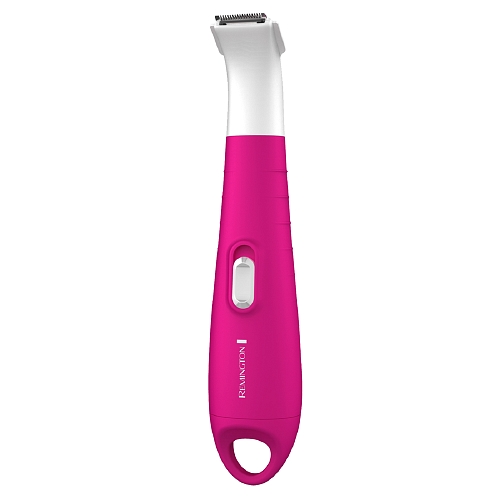 At Beauty High we constantly have new products crossing our desks and are always on the hunt for the next best thing. "The One Thing" is our way of sharing with you that must-have product that you need to introduce to your lives right now, even if it means skipping Starbucks for a couple of days.
When it comes to hair removal, we've tried it all. Waxing, shaving, plucking, creams and any other kind of method of getting rid of unwanted body hair has not gone untested, and through our trials we've learned a thing or two. For example, run the other way if your waxing specialist has double dipped, keep razors clean with baby oil and never get your eyebrows waxed less than two days before a big event. Now that summer's around the corner, we're way more conscious of our bikini area, so the maintenance routine for bathing suits and weekends at the beach has started up again, meaning we're on the hunt for the next best thing in the way of hair removal. Saying we were impressed with the Remington Smooth & Silky Body & Bikini Kit would be an understatement, because this thing is our new favorite product.
What Makes It Different: 
The kit includes five different attachments, including a length guide, an exfoliator (so you won't get ingrown hair or bumps) and the bikini trimmer.

Working in both wet and dry situations, the trimmer is battery-operated and works with you either in the shower or out.

The hypoallergenic foil shaver attachment gives you a clean, close shave and doesn't irritate skin.
Why It's The One Thing:
Remington thought of everything with this kit: the exfoliator to battle ingrown hairs and bumps, the foil shaver for a clean shave, and the length guide to let you personalize whatever kind of grooming you need to do. There's nothing we love more than a double duty product, and considering this is a triple duty product, we're giving it our stamp of approval.
Where to Buy: Remington Smooth & Silky Body & Bikini Kit, $19.99, Drugstore.com
More Summer Skin Care Tips From Beauty High:
8 Expert Skin Care Tips You Need to Know Before Spending Time in the Sun
Getting Rid of Cellulite: The Best Skin Firming Products to Use
101 Summer Beauty Tips You Should Add to Your Bag of Tricks