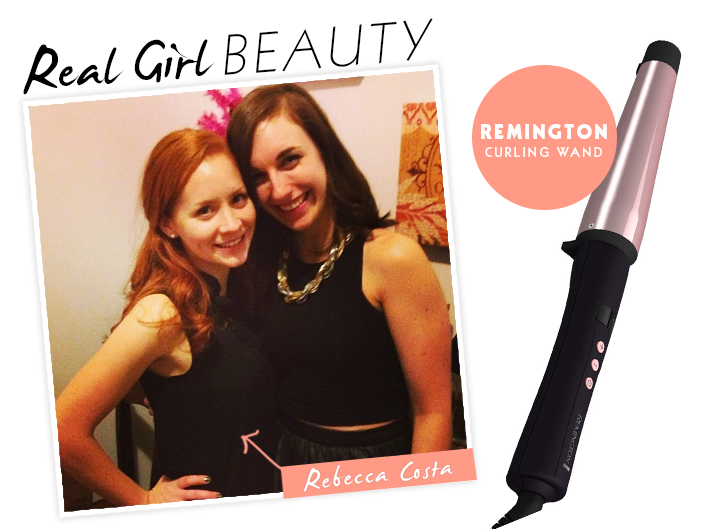 Going backstage and learning tips and tricks from the professionals may be an adventure, but sometimes, the best tricks come from real girls. In "Beauty and the Real Girl," we learn the best beauty tips, tricks and secrets from girls just like us.
When you have naturally curly hair, finding products that enhance your texture is key to making the most of your hair. Between the mousses and sprays and deep conditioning treatments and tools, finding just what works for you takes effort, but it's worth it. It's rare to find someone who can just wake up and look amazing with curly hair.
Rebecca Costa, a product assistant at Macy's, has the hair that everyone envies. Despite the fact that everyone and their mother asks how she gets her hair to look so luscious after she does nothing to it, the times she styles it with a curling wand make for nothing short of hair commercial moments in real life. We caught up with Rebecca to learn — and steal — her secret to envy-inducing hair.
MORE: Beauty and the Real Girl: Why the Naked Palette Always Works
"I am a basic girl when it comes to beauty, so this tool is a staple in my routine because it's so quick and easy. I've been using my Remington Curling Wand for about a year now," she tells us. "It was super affordable and it leaves my hair with perfect curls for days, without having to re-curl it. I don't even have to use product! After I section off my hair, starting at the bottom, I'll use the wand on one-inch sections of hair all the way around."
"The key the perfect curl is to wrap your hair around the wand in loose spirals, that way you don't end up with tight curls that look like you tried too hard. Just be careful when you're using the wand, because if you're used to a curling iron with a clamp, the first time you switch to a wand you can stumble a bit and wind up burning yourself."
Image Courtesy of Rebecca Costa
Where to Buy: Remington TIStudio Pearl Ceramic Professional Curling Wand, $24.99, Remingtonproducts.com