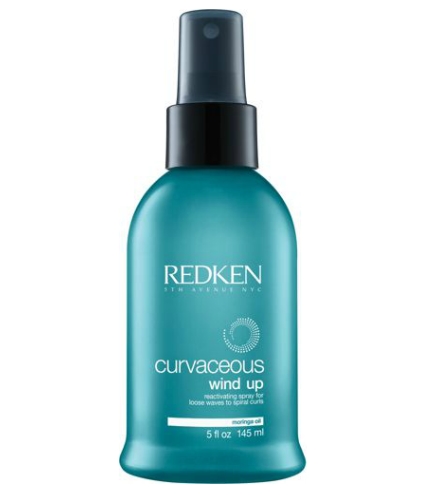 At Beauty High we constantly have new products crossing our desks and are always on the hunt for the next best thing. "The One Thing" is our way of sharing with you that must-have product that you need to introduce to your lives right now, even if it means skipping Starbucks for a couple of days.
Recently, we found out that more than half of the population has naturally curly or wavy hair (which includes the entire Beauty High staff), which means that we're constantly on the hunt for products that will treat our curls right. Plus, with all of the buzz lately about models who are embracing their differences compared to the rest of the modeling world, we're inspired to embrace our more natural side of curly hair instead of opting for a straight look. Enter Redken's new Curvaceous Wind Up Spray, part of the Curvaceous line, that is specifically formulated for wavy and curly hair. The entire line lets our curls shine, but we fell pretty hard for the Wind Up Spray in particular.
What Makes It Different: 
The formula in the spray has a Keralink, a special protein that acts in the wet phase by binding moisture to the hair while strengthening it. This means that the product acts to make your hair smooth while it's still wet so that once dry, it's smooth as silk.
It can also be used throughout the day on your dry hair to revive your curls, pumping the life back into them.
UV filters protect your hair from the damaging rays of the sun (yes, the sun still shines in the fall) so your color treated curls won't fade.
When the whole suite of products is used together, your style can last for up to three days. Longer lasting style means less work, which is a huge plus in our book.
Why It's The One Thing: 
Because it's formulated to make loose waves curlier and shinier, Wind Up lets your hair be its best version of itself. If subtle changes like highlights or layers can brighten up a look, we're excited to have our curls get a much needed makeover with Wind Up so our natural beauty can come out. Plus, it smells absolutely divine.
(Redken Curvaceous Wind Up Reactivating Spray, $18, Ulta)