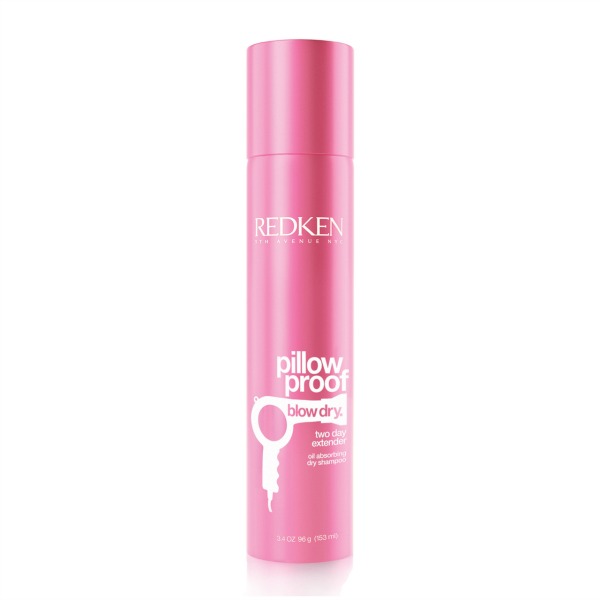 At Beauty High we constantly have new products crossing our desks and are always on the hunt for the next best thing. "The One Thing" is our way of sharing with you that must-have product that you need to introduce to your lives right now, whether it's from a drugstore or a department store.
Making a blowout last more than 24 hours is one of those lifelong hairstyling goals we'll never stop trying to accomplish. Whether you're a chronic hair flipper messing with your strands all day long or are just prone to an excess of oil production along your scalp, keeping that hairstyle looking neat and, more importantly, clean is always a laborious task at hand. Visiting the salon daily is far from realistic, so we're always on the hunt for dry shampoos that can extend the life of a blowout and keep the fact that we haven't washed our hair since Friday of last week totally under wraps.
MORE: Pretty Updos to Wear to Your Winter Formal
The search officially came to an end when we tried out Redken's Pillow Proof Blow Dry Two Day Extender Dry Shampoo, a product that absorbs the oil collecting at your scalp, which so happens to be the stuff that gives your hairstyle that flat, greasy look. In fact, this flexible formula works so well that we've used it for more than just a savior to our salon hairstyles—and have even started carting it around in our handbags.
What Makes It Different:

This is an extremely light spray, so you won't feel like your hair is coated with a heavy product build-up after you apply it.
After you spray it in your hair, it blends and visibly disappears in seconds, which means that lingering white powdery residue isn't an issue at all.
It's in the name. This product was specifically made to make your blowout last two days longer. It also creates texture that helps keep updos in place.
Why It's the One Thing:
This product is a life-saver for absorbing oil, but it also acts as a texturizing spray when you're looking to separate and relax your freshly curled tendrils into a messy, beachy look. After spritzing the product at your roots, use your fingers to blend in the product, giving the hair around your roots a lift. Next, spray in the dry shampoo into your straight or wavy hair and run your hands through to create texture.
Where to buy: Redken Pillow Proof Blow Dry Two Day Extender Dry Shampoo, $8.50, Ulta stores.