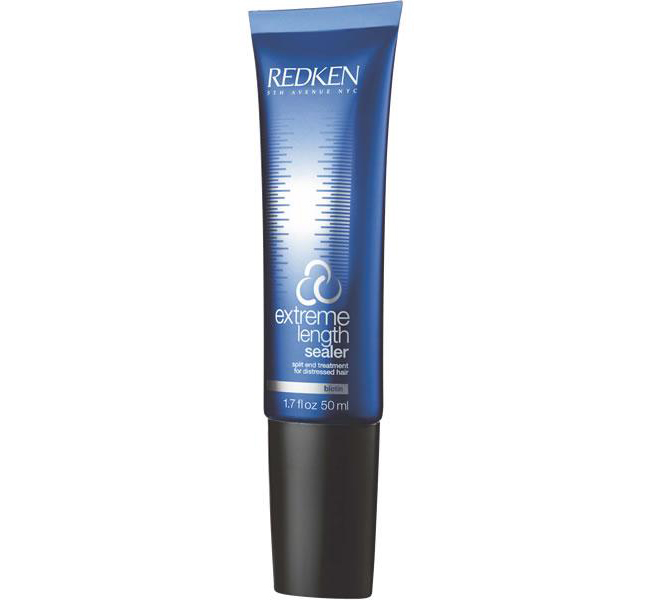 You know how you see the "bestsellers" and "most popular" products in beauty stores, so you of course scoop them up, but then you realize you have no idea how to work them? In "How It Works," we're going to explain to you exactly how to get the best use out of your products, whether they are cult classics or hot off the conveyer belt must-haves. We'll teach you the basics, as well as a few industry expert tips to make sure you're getting the most out of everything you buy.
For those of us plagued with split ends (so, everyone) much to the chagrin of our long-hair desires, that four to six week trim may be able to be held out just a little longer, thanks to this hair product that seals split ends shut so your hair doesn't resemble a scarecrow so much. We're talking about Redken's Extreme Length Sealer. It's like magic hair glue in a tube, with a handy brush applicator at the tip that the product squeezes through.
MORE: Tips On How To Prevent Split Ends
Product Perks:
The product can be used on wet or dry hair, and once applied immediately makes your hair look more polished, even if you aren't necessarily going for polished in a stuffy way.
It acts as a little extra leave-in conditioner for your ends, which is generally where you need extra TLC.
Instead of weighing hair down with product, you can use this instead as part conditioning treatment, part styling cream.
Works great to tame fly-aways or any part of your hair that has a mind and will of its own.
How it works:
Formulated with biotin and what Redken calls their "Interlock Protein Network," you literally paint the product onto the shaft of your hair with the brush attached to the tube—you can just do the ends or anywhere on the shaft down to the roots for extra frazzled hair. Distribute with your fingers, comb, or a brush and it weightlessly conditions your hair while making it appear sleeker and tamed. Porous and damaged hair that's had its protein bonds broken via chemical treatments and too many dye jobs, leads to split ends and breakage. Damaged hair is thirsty for protein fillers to essentially fill in all those gaps in the hair shaft, to make your hair stronger and sleeker-looking.