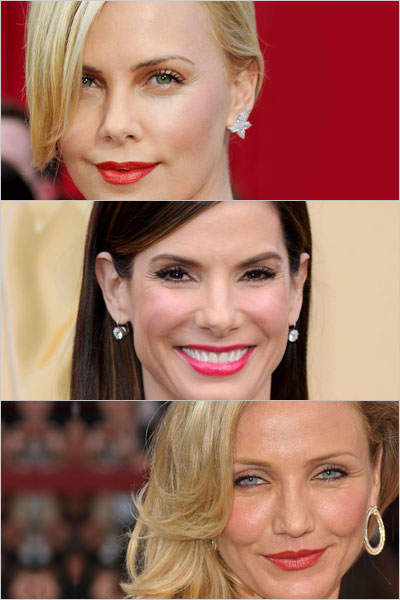 From top, Charlize Theron and Sandra Bullock Photos: © Jason Merritt/Getty
Images, Cameron Diaz Photo: © John Shearer/Getty Images
Known for it's super-glam and dramatic look, bold red lips are not necessarily a look that comes to mind when you think of spring beauty. As classic beauty trends go, the red lip is about as far from spring's usual pastel hues as you can get. Nevertheless, the crimson pout is one of the key trends of the season with celebs like Cameron Diaz, Sandra Bullock and Charlize Theron sporting it recently on the red carpet.
Transitioning this look from winter to spring is actually quite easy. Celebrity makeup artist Robin Fredriksz, who created Cameron Diaz's devastatingly gorgeous Oscars look, says that nailing this look is all in the application. "I would use opaque color, but with a little less application–use just one swipe or apply the color with your finger so you have a softer line around the mouth instead of a drawn on lip," she says. She also likes adding a gloss on top to add a juicy shine. Try Chanel Aqualumière Gloss in Party Red layered over Rouge Coco Lip Colour in Gabrielle.
According to Fredriksz, it's also key to keep the rest of your face natural. "Wear a light blush and mascara to make sure the lip doesn't feel too heavy or 'night'," she says. Try using a soft champagne shade on your lids and a sheer flush on the cheeks. Fredriksz likes to apply a small dab of the lip color on the cheek and blend it because "it's always going to be the perfect combo if it's already on your lips!"
As one of the web's largest beauty sites, DailyMakeover.com constantly receives products from beauty companies for editorial review. Please read our Editorial Ethics Pledge if you'd like to know how we select products to feature.