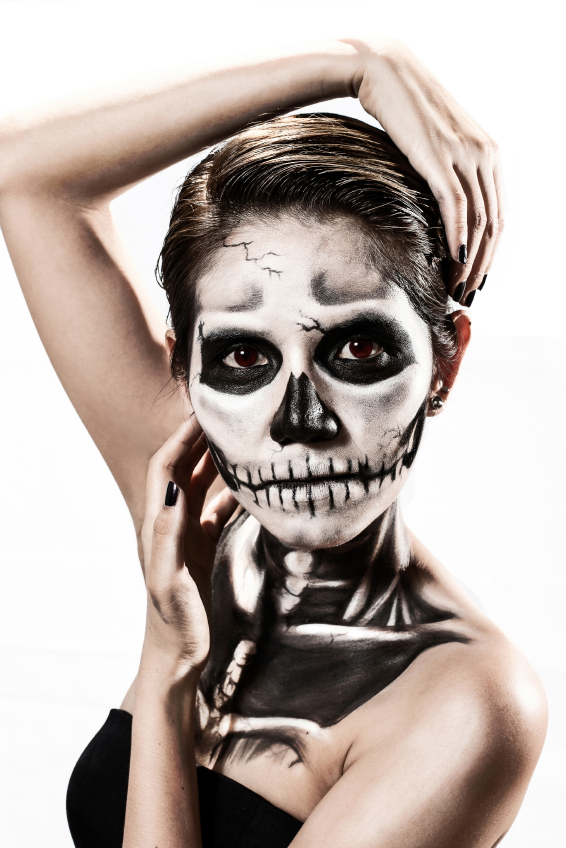 Prep with moisturizer: If you're going as a glam skeleton or the all too popular sugar skull this year, your face is about to take on some major makeup. Make sure that before you even start putting on your costume, you're properly prepping your skin with moisturizer. Putting makeup on dry skin will only cause major irritation and possible breakouts, so don't skip this crucial step.
Use petroleum jelly for removal: First off, even if you're tired and all you want to do is go to sleep after a night out on Halloween, this is the worst time to fall asleep with makeup on. If you're wearing tons of product, petroleum jelly or Albolene (tough on waterproof makeup but soft on skin) will be a moisturizing way to remove everything without upsetting your skin. Apply to your face gently in small circular motions, then wipe clean with a tissue.
MORE: 5 Last-Minute Halloween Costume Ideas You Can DIY
Exfoliate: Once your skin is clean of makeup, use a gentle exfoliator to get rid of any stray makeup that's left in your pores. If you're prone to breakouts, try the Green Tea Blemish Exfoliator from St. Ives, which is outstanding on sensitive skin (i.e. everyone's skin post-Halloween makeup) and helps to prevent blemishes.
Moisturize overnight: Your skin needs some TLC after a nice of white face paint, so using an overnight moisturizing mask will help to replenish moisture while you sleep. This way, you won't wake up in the morning with dry, red, itchy skin.
Let it breathe: If you can manage, give your skin a day off following Halloween so that you can let it breathe. Because Halloween falls on a Thursday and you'll likely have to be at work or school on Friday, skip the full coverage foundation in favor of a BB cream and let your eyes take a rest from as much makeup as possible. Covering up irritated skin can turn into a vicious cycle, but giving your face a rest day will help to get things back on track.
Image via Istock Photo