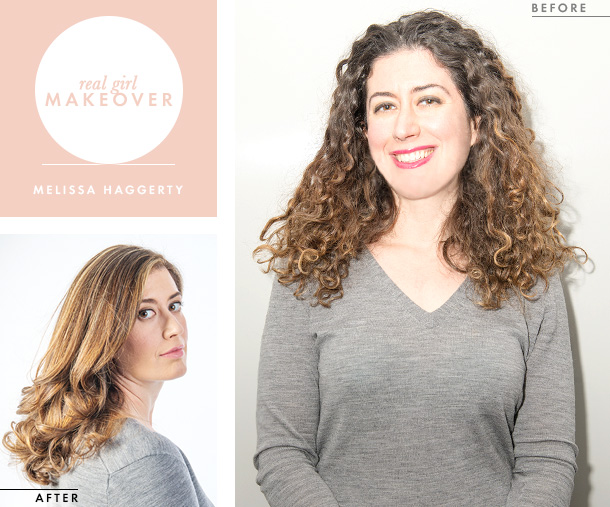 It's one of the biggest beauty issues out there: you want to try something new, but you're afraid to make the change.
Maybe you're scared that you won't be able to pull it off. Maybe you're worried about what people will think. Or maybe you're just so nervous that without some serious prodding, you'd never actually make the leap.
We say that life is too short to have hair you don't love. So when Melissa told us that she'd always wanted to make her naturally curly, dark hair lighter (like, a lot lighter) but was afraid to make the change, we hustled her off to Pierre Michel Salon for the makeover of her dreams.
"I want to be blonde, but not like CRAZY blonde," Melissa told us. "I've wanted lighter hair for a long time, but I'm concerned about it not looking good or my hair falling out." The challenge, then, was lightening her hair without destroying her natural curl and giving her rich, natural color that wouldn't be too much maintenance.
In other words, platinum was out—but luckily there are lots of other shades of blonde out there. Colorist Ida Spata created a color concept that pleased everyone: tone the brassiness out of Melissa's ends, lighten the base a shade or two, and add gorgeous ash-blonde highlights throughout. "That way it won't look obvious, even as it grows out," she said. "And Melissa won't have to run back to the salon every two weeks for touch ups."
Ida toned Melissa's hair from root to end, lightening it lightly. She then hand-painted thin blonde highlights through the top layers for natural, multi-tonal highlights.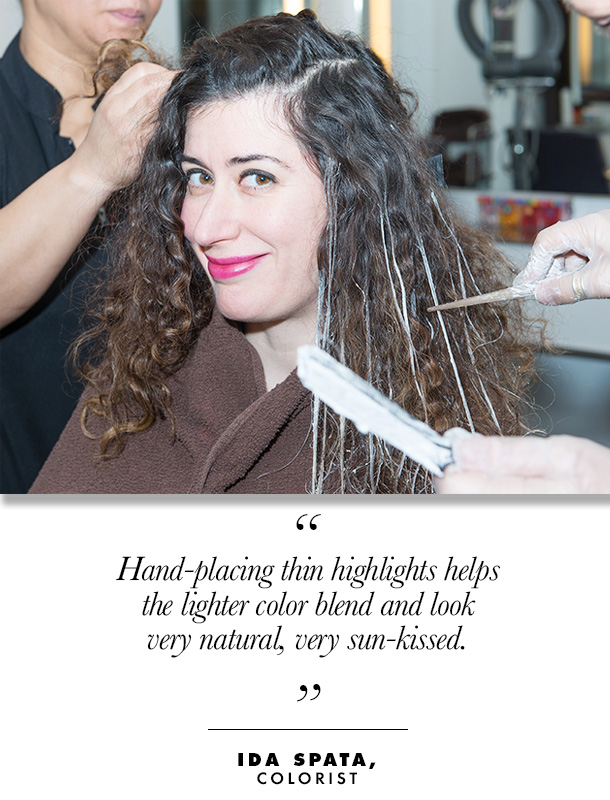 After blowing out her bangs, Ida decided that Melissa's hair didn't quite have the impact that she wanted. She added some more individual highlights to really amp up the blonde, wrapped her hair in plastic, then set her under the dryer to let the additional color process.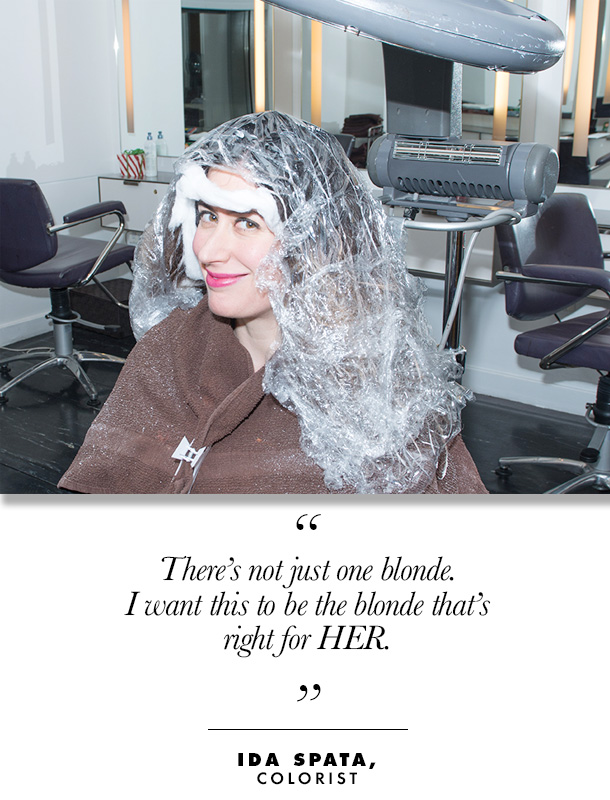 Once the color was right, stylist Yuki Yamazaki gave her the cut of her dreams. "I'm not touching the length, only the shape," he said. "I want it to be softer overall."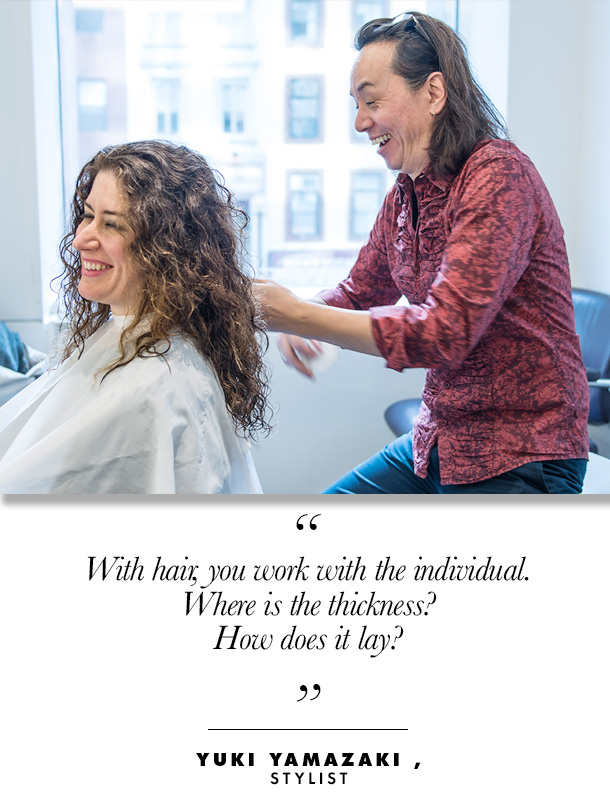 The blowout was the crowning glory, revealing all the beautiful, multifaceted highlights. Yuki made sure it was very smooth, with lots of bounce at the ends.
Makeup artist Yuui finished this fabulous makeover with a beautifully subtle look to really enhance Melissa's natural beauty. "I never wear a nude lip," said Melissa. "But maybe I should start!"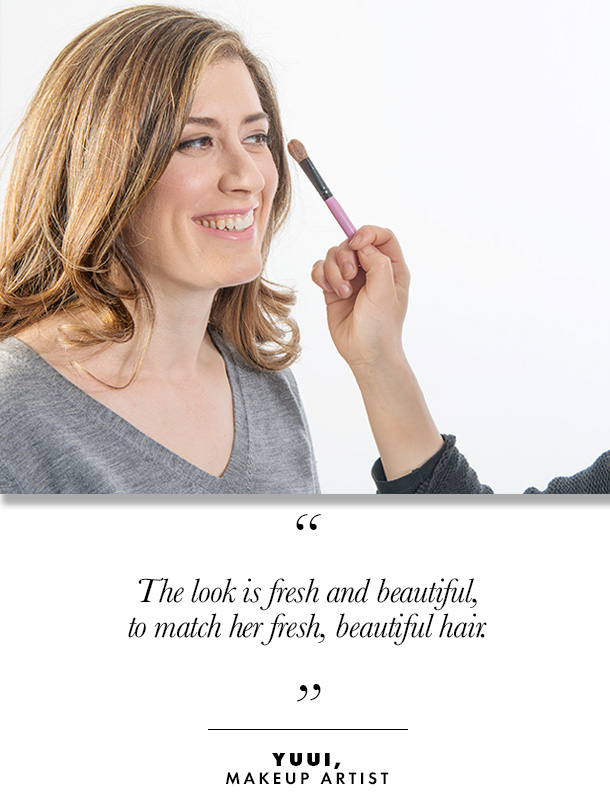 And the verdict? Though she was nervous about making such a big hair change, Melissa loved her new look. "I never thought I'd actually do this," she said. "I put it off for so long, and now I wonder why I waited…It's definitely a change, but not a shocking change. This whole new look is beautiful, I wish I had this blowout every day! I feel very glamorous."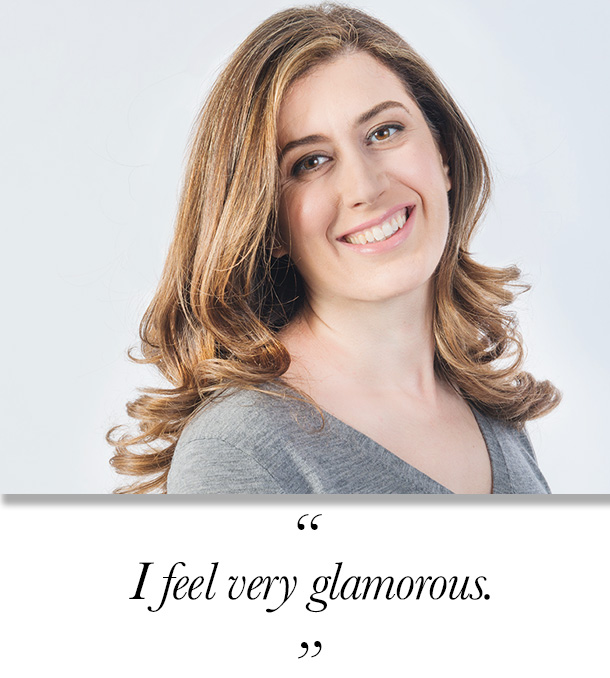 Thanks to…
Melissa Haggerty (our fearless real girl)
Photography: Tiffany Hagler-Geard
Cut: Yuki Yamazaki
Color: Ida Spata
Makeup: Yuui
Salon: Pierre Michel Salon
Graphic design: Rolando Robinson