Full disclosure: I can never find a blazer that fits me. Not because my chest is too big and it won't button around my bosom but because of my arms. My arms have always been a trouble area for me. No matter how many push ups I do, or weights I lift, my arms are just chunky.
Because of this it's always really hard to find a blazer that fits. If I go up a size to accommodate my arms, then the rest of the garment looks like a tent draped around me. But the smaller-sized blazers that do fit the rest of my body, don't even fit my elbows. *sigh* I just want to wear a blazer with a white tank and a pair of jeans and cute boots. Is this so hard?
The other day I was pimping around QVC.com and decided to see what was happening in blazer land. I came across the Luxe Rachel Zoe Tuxedo Jacket with ruched sleeves: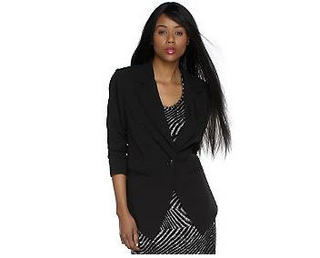 Definitely what I was in the market for. I read the reviews, and a girl who sounded like she had the same body shape as I do left a glowing review. QVC.com has such an easy return policy that I just thought, "Why not!"
I purchased the blazer in black in a Large and was about to check out when I saw something sequin-ey below the blazer.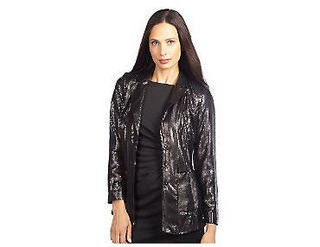 I never met a sequin I didn't like. And this would be perfect with a pair of black skinny jeans and my new pair of LV booties that I purchased at a sample sale! I bought this in a Large and XL because there wasn't a lot of stretch so I wasn't sure how it would fare.
A few days later, both pieces arrived and I was giddy with excitement. The Tuxedo jacket fit perfectly! It actually fit my arms without feeling like they were sausages and the sequin jacket was perfect in a Large as well. I couldn't believe that I'd actually found blazers that fit.
I'm sure some of you are reading this thinking I am completely ba-na-nas, but the years-long search I have endured to find the perfect blazer (or any blazer for that matter!) had just come to a very happy end.
If you haven't checked out Rachel Zoe's line on QVC.com I highly recommend it!
Luxe Rachel Zoe Tuxedo Jacket with ruched sleeves $82.14
Luxe Rachel Zoe Sequin Blazer $119.16